22 June 2023 written by Malin
We remained in L'aber Wrac'h for four days because of the fog. There were hardly any boats that could get out of the harbor but the more that came in and waited for the fog to lift. Perhaps not so much fun for all sailors, but the harbor master was particularly pleased with all the jetties and the buoys occupied.
Once the weather cleared we sailed to Île d'Ouessant, a beautiful island off the northwest corner of Brittany. Here there are many rock formations that have eroded into odd shapes. The island also has several old lighthouses, some of which are still in use. We walked along paths on the island and enjoyed the beautiful nature and blooming gardens. Here we also saw a flock of alpine choughs, which we first thought were rooks. We met a shepherd walking in neon green shorts tending to his goats that roamed freely in the area. On the island there is a small village with everything you could need in the form of a church, bars, restaurant, creperie, bakery, patisserie, cafe and small shops that sell locally produced products. The tidal currents are strong here due to all the treacherous shallows that stick up around the island and we could see maelstroms here and there. Many ships have apparently been wrecked in the area... The tide difference is around 4m and as visiting boats can only moor here (free of charge) a dinghy is needed to get ashore. A French couple had, at low tide, tied their dinghy next to ours, at a jetty with a long iron staircase leading down to the water. When they came back, it was high tide and their boat had unluckily got stuck under the stairs, which were now completely under water. We had a much longer line for our boat which we moored quite high so it had not been damaged. Now we had to work together and with the help of our dinghy try to push their boat out of the stairs. It took quite a while and it was only when they blew out some air of it that we managed to take it out. Unfortunately, the propeller of their outboard had been damaged but the couple were still in good spirits and said they had spare parts with them so it would be fine.
The next stop was Camaret on the mainland. Here we could anchor outside the harbor and get ashore for a little shower and provisions. Here we also met the Swedish couple Ingela and Mats with their sailboat Elin Alida (see the blog https://www.elinalida.se/) who had just crossed Biscay on their way north. They suggested places in Galicia, among others, that could be nice to visit. They have written a small sailing guide on the blog with many rias in Galicia where you can stop with your boat. Well worth reading.
At the port of Camaret we also saw strange jelly-ish, egg-like little lumps moving in the sea. A bit of research revealed that it was Salpas! Small zooplankton that vacuum the water on phytoplankton and at the beginning of their life cycle include long strings of individuals that swim in sync with each other. Amazing - and beautiful! The French at the pier exclaimed "medusas" (jellyfish) - but it wasn't 😊
After Camaret we continued south along the coast to Audierne and now we are in Bénodet. We intend to follow the coast of Biscay instead of stretching across it. The winds look promising and we are planning sailings of about 30 nautical miles, which corresponds to 5-6 hours of sailing a day. It gives us time for planning and rest. If we like a place a little extra, we stay for more days... If we sail slowly, we have time to put out some fishing gear and today we managed to catch a garfish, which we fried for dinner. A bit odd with the green colored fish bones on the plate but good! Although we think mackerel is tastier 😊


Vi blev kvar I L'aber Wrac'h i fyra dygn på grund av dimman. Det var knappt några båtar som kunde ta sig ut ur hamnen men desto fler som kom in och väntade på att dimman skulle lätta. Kanske inte så roligt för alla seglare men hamnkaptenen var särdeles nöjd med full beläggning på bryggan och vid bojar.
När vädret väl klarnade seglade vi till Île d'Ouessant, en vacker ö vid nordvästra hörnet av Bretagne. Här finns många stenformationer som eroderat till märkliga former. Ön har också flera gamla fyrar varav några fortfarande är i bruk. Vi vandrade längs stigar på ön och njöt av den vackra naturen och blommande trädgårdar. Här såg vi även en flock alpkajor som vi först trodde var råkor. Vi mötte en herde gick i neongröna shorts och såg till sina getter som strövade fritt i området. På ön finns en liten by med det mesta man kan behöva i form av kyrka, barer, restaurang, creperi, bageri, konditori, café samt små affärer som säljer lokalproducerat. Tidvattenströmmarna är starka här på grund av alla förrädiska grund som sticker upp runt ön och vi kunde se malströmmar lite här och var. Många skepp har tydligen förlist i området… Tidvattensskillnaden är runt 4 m och eftersom besökande båtar bara kan ligga på boj här (gratis) behövs dinge/gummibåt för att ta sig i land. Ett franskt par hade, vid lågvatten, bundit sin gummibåt intill vår, vid en brygga med en lång järntrappa som gick ner till vattnet. När de kom tillbaka så var det högvatten och deras båt hade oturligt fastnat under trappan som nu låg helt under vatten. Vi hade en mycket längre lina till vår båt som vi förtöjt ganska högt så den hade klarat sig. Nu fick vi med gemensamma krafter och med hjälp av vår gummibåt försöka trycka ut deras båt från trappan. Det tog en bra stund och det var först när de blåste ut luft från den som vi lyckades lirka upp den. Tyvärr hade propellern till deras utombordare skadats men paret var ändå vid gott mod och sa att de hade reservdelar med sig så det skulle lösa sig.
Nästa anhalt var Camaret på fastlandet. Här kunde vi ankra utanför hamnen och ta oss i land för lite dusch och proviantering. Här träffade vi också på det svenska paret Ingela och Mats med sin segelbåt Elin Alida se bloggen https://www.elinalida.se/ som precis hade korsat Biscaya på väg norrut. De tipsade om ställen bl a i Galicien som kunde vara trevliga att besöka. De har skrivit en liten seglingsguide på bloggen med många rior (vikar, flodmynningar) i Galicien där man kan stanna till med sin båt. Väl värd att läsa.
Vid hamnen i Camaret såg vi också märkliga geléaktiga, äggliknande små klumpar som rörde sig i havet. Lite efterforskning visade att det var bandsalper! Små djurplankton som dammsuger vattnet på växtplankton och vid början av sin livscykel ingår långa strängar av individer som simmar synkroniserat med varandra. Jättemärkliga- och vackra! Fransmännen vid bryggan utbrast "medusas" (maneter) - men det var det alltså inte 😊
Efter Camaret fortsatte vi kusten söderut till Audierne och nu befinner vi oss i Bénodet. Vi tänker följa Biscayas kust istället för att sträcksegla över den. Vindarna ser lovande ut och vi planerar seglingar på ca 30 sjömil vilket motsvarar 5-6 timmars segling om dagen. Det ger oss tid för planering och vila. Gillar vi någon plats lite extra så stannar vi fler dygn… Seglar vi långsamt så hinner vi lägga ut en dörj och idag lyckades vi fånga en horngädda som vi sedan stekte till middag. Lite udda med de grönfärgade fiskbenen på tallriken men gott! Även om vi nog tycker att makrill är godare 😊
Île d'Ouessant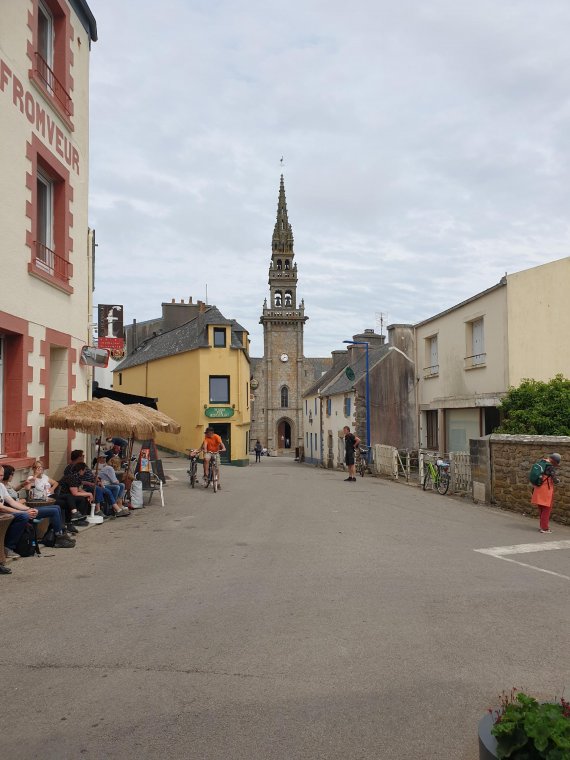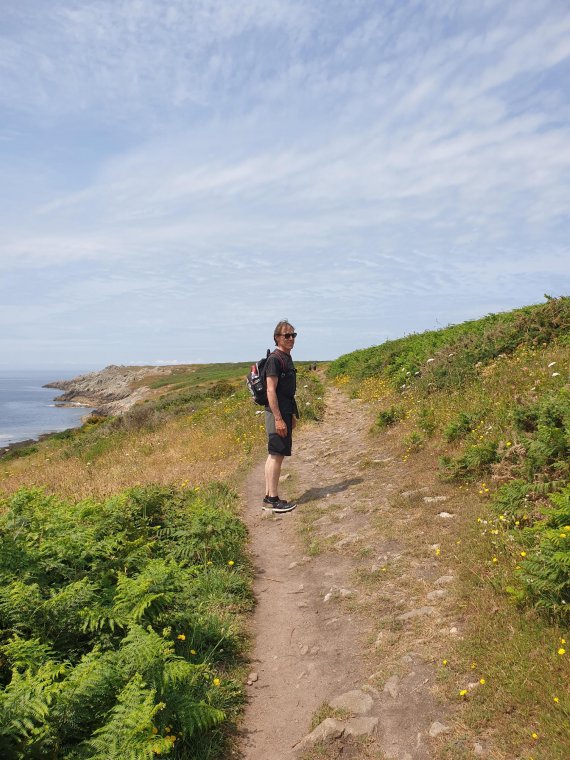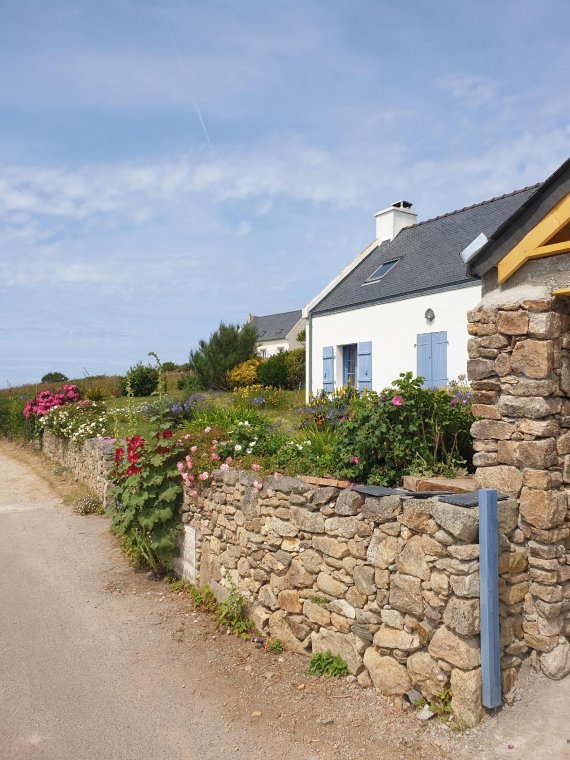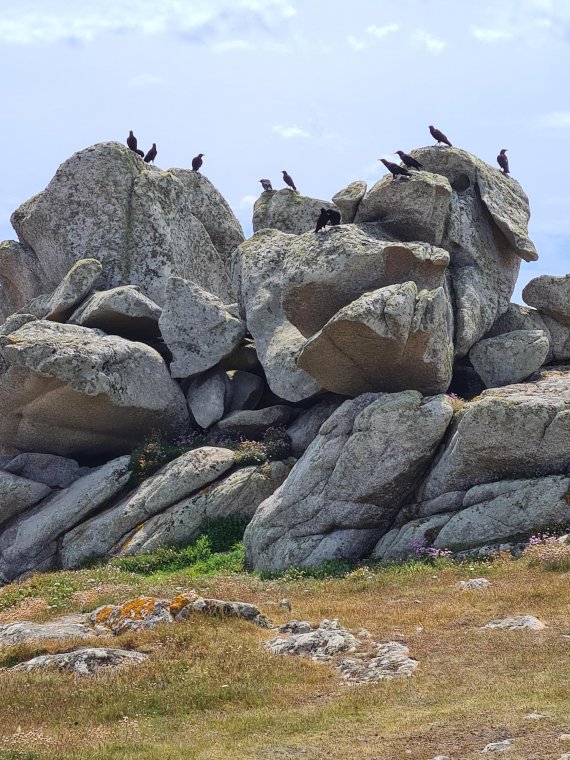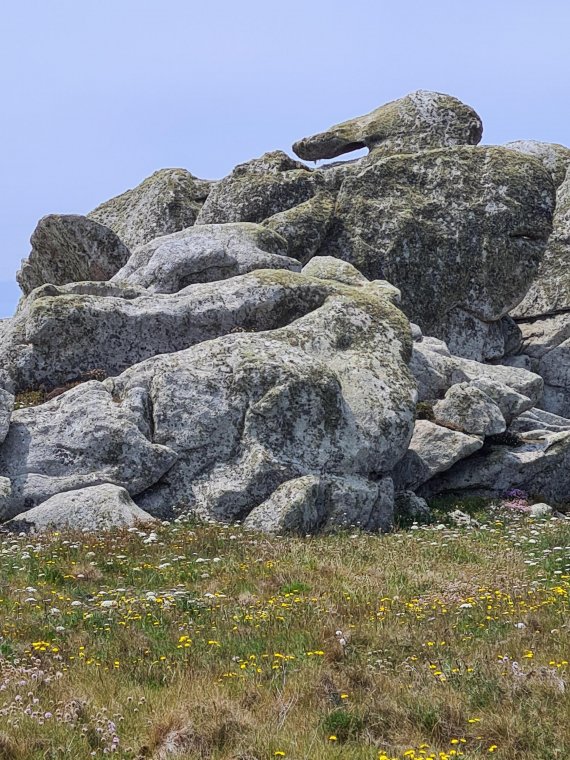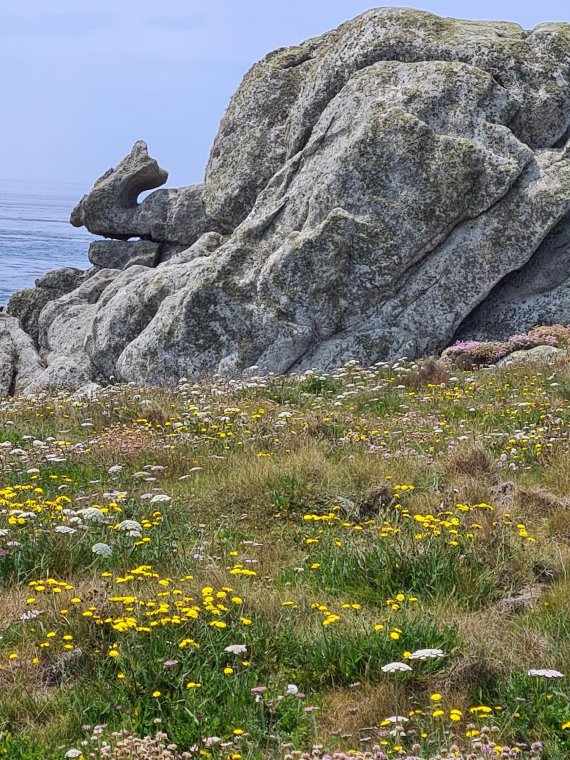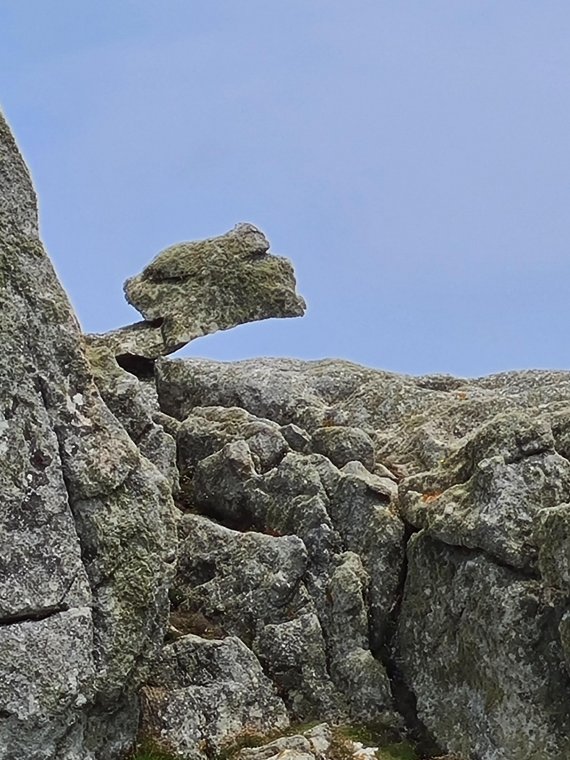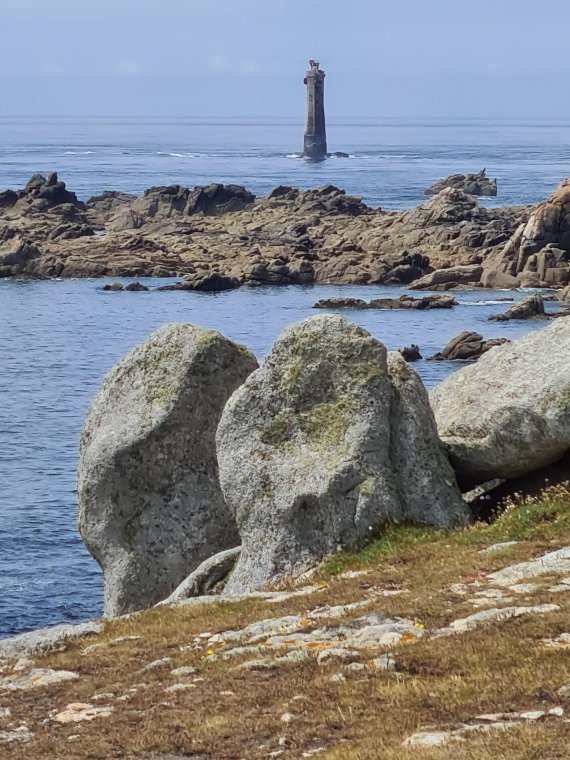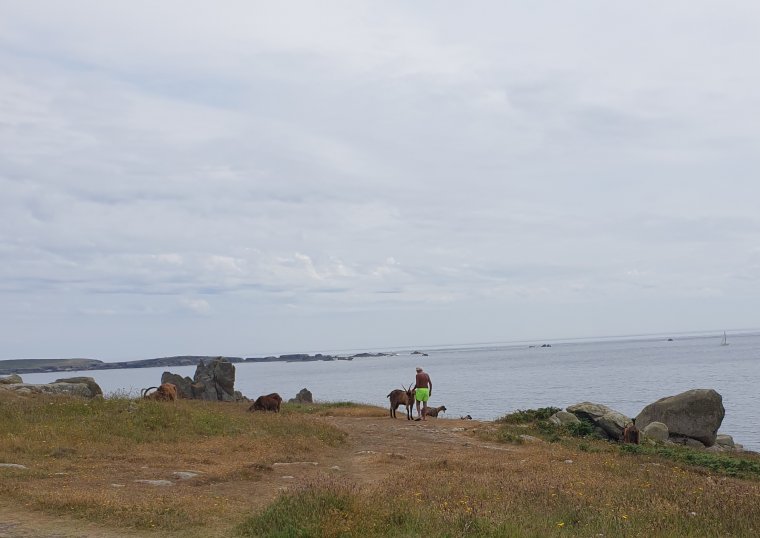 Camaret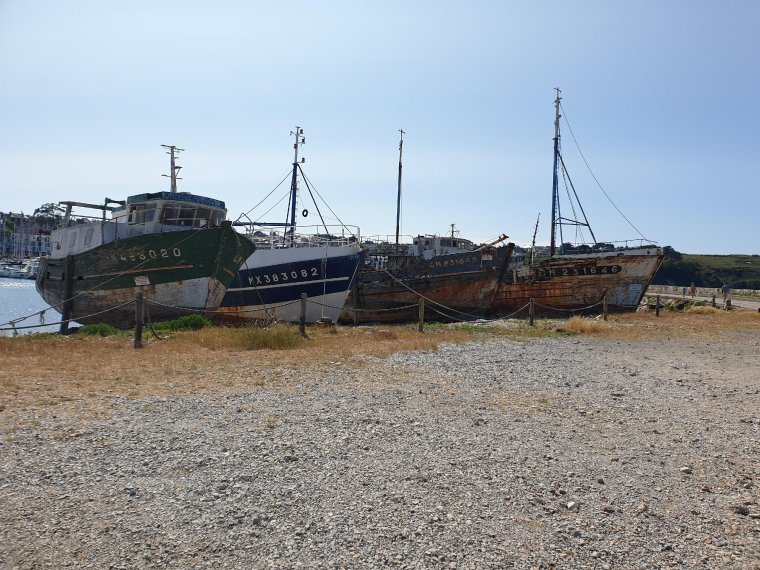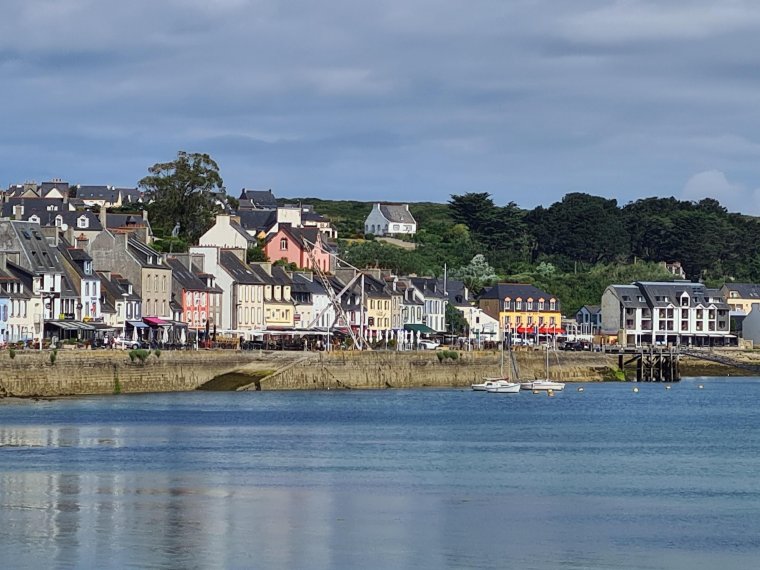 Sapls (photo: Henry Jager Conartix-photo.ch)