29 June 2023 written by Malin
When we left Bénodet, we accidentally ended up (again!) in the middle of a regatta. Many classic wooden sailboats of various sizes accompanied us a bit south escorted by a jury boat to the start of the competition. This time as well, the wind was non-existent and several of the boats were towed as they lacked engines. Many of the boats were very beautiful and resembled delicate seed pods with sails. More information about the regatta and the boats, for those interested: https://www.boatsnews.com/story/43616/rendez-vous-de-la-belle-plaisance-de-benodet-the-classic-show-in-pictures
The next port of call was the port of Kernevel near Lorient. We stayed there for a few days to wait out slightly harsher weather and celebrate Midsummer. Here there were lots of large yachts and racing boats. Including foiling racing boats (catamarans and trimarans) that Christer couldn't get enough of... We took advantage of the opportunity to borrow bikes for free and cycled around Lorient. Both to buy food and to visit various ship chandleries and look for spare parts for Anastacia. Even though it's a French boat, it's hard to find parts that fit, but we keep looking. Among other things, we need to change the wheel for the anchor roller, which is now really worn... It is exactly what many have told us. If you are out on a long-distance sailing, it is a constant maintenance and repair of the boat that is necessary.
In a small bar in Kerneval we also got to taste the beer Desperados for the first time. A tequila beer that is definitely not for the desperate 😊 We liked it so much that we bought a whole crate of that beer at the supermarket the next day...
After Kerneval we anchored at the island of Belle Île en Mer (The beautiful island by the sea). Brittany's largest island. Here we yet again saw strange rock formations and hollows created by the sea. Just before we reached the island, we saw an Ocean Sunfish slowly rolling forward in the water with its fins in the air. The camera went up immediately but it was difficult to get a good picture. We docked at a small idyllic bay with both a sandy beach, rocks and a cave mouth. When we dropped the anchor, we suddenly discovered a group of nudists on the beach. The clothes went on fast (on the nudists) when they saw Anastacia. Later in the evening we heard them singing Acapella. Among others "Sing Hallelujah!" by Swedish artist Dr. Alban (!). https://www.youtube.com/watch?v=YRqBcDwG8vs . The acoustics were good from the small beach surrounded by rocks and it sounded amazingly beautiful!
The next day we sailed to another, smaller island, Île d'Yeu, where we anchored for the night before heading back to the mainland. This time we had wind from the stern and could try our downwind sail "Blue Water Runner" Finally! What a joy! 😊 It worked amazingly well and combined with the wind vane the Atlantic crossing will go like a dance! We docked at Les Sables-d'Olonne. A large beach by a smaller town. Here it was full of all kinds of (expensive) water toys you can imagine. We were able to lay down at a buoy by the beach and ended up in the middle of kite surfers, wind surfers, wing surfers, jet skiers and several other more or less life-threatening ways of traveling on the water. Here we had our hottest day so far on our trip and, brave as we are, we decided to swim in the 18 degree (C) water!
What strikes us are the endless beaches that can be found all along the French Atlantic coast. We don't understand why the French Riviera towards the Mediterranean is so hyped in comparison.
Now we are on the island of Île de Ré and we have cleared about half of the French part of the Bay of Biscay or Golfe De Gascogne as it is actually called here. In front of us is a straight stretch with a looong beach with no possibility of shelter, which is why we will sail for about 1.5 days until we reach the end of the French border and then the last part of the Bay of Biscay awaits on the Spanish side.
När vi lämnade Bénodet så hamnade vi helt oavsiktligt återigen mitt i en regatta. Många klassiska trä-segelbåtar i olika storlekar följde med oss en bit söderut eskorterade av en jurybåt till starten av tävlingen. Även denna gång var vinden obefintlig och flera av båtarna blev bogserade då de saknade motor. Många av båtarna var väldigt vackra och påminde om smäckra fröskal med segel.
Mer information om regattan och båtarna, för den intresserade: https://www.boatsnews.com/story/43616/rendez-vous-de-la-belle-plaisance-de-benodet-the-classic-show-in-pictures
Nästa anhalt blev hamnen Kernevel vid Lorient. Där stannade vi några dygn för att vänta ut lite hårdare väder och fira midsommar. Här fanns massor av stora yachter och tävlingsbåtar. Bl a foilande tävlingsbåtar (katamaraner och trimaraner) som Christer inte kunde se sig mätt på… Vi utnyttjade möjligheten att låna cykel gratis och cyklade runt i Lorient. Både för att handla mat och för att besöka olika båtaffärer och leta reservdelar till Anastacia. Trots att det är en fransk båt så är det svårt att hitta delar som passar men vi fortsätter leta. Bl a behöver vi byta hjul till ankarrullen som nu är riktigt slitna… Det är precis som många berättat för oss, Är man ute på långsegling så är det ett ständigt underhåll och reparation av båten som gäller.
I en liten bar i Kerneval fick vi också för första gången smaka på ölen Desperados. En tequila-öl som absolut inte är för de desperata 😊 Vi tyckte så mycket om den att vi köpte en back på stormarknaden dagen därpå…
Efter Kerneval ankrade vi vid ön Belle Île en Mer (Den vackra ön vid havet). Bretagnes största ö. Här såg vi återigen märkliga klippformationer och urgröpningar i bergen som havet åstadkommit. Precis innan vi kom fram till ön fick vi syn på en klumpfisk som sakta rullade fram i vattnet med fenorna i luften. Kameran åkte upp direkt men det var svårt att få en bra bild. Vi lade till vid en liten idyllisk vik med både sandstrand, klippor och en grottmynning. När vi släppt ankaret upptäckte vi plötsligt ett grupp nakenbadare på stranden. Kläderna åkte på fort (på badarna) när de fick syn på Anastacia. Senare på kvällen hörde vi hur de sjöng Acapella i olika stämmor. Bl a "Sing Hallelujah!" av svenske artisten Dr. Alban (!). https://www.youtube.com/watch?v=YRqBcDwG8vs . Akustiken var god från den lilla stranden omgärdad av klippor och det lät fantastiskt vackert!
Dagen efter seglade vi till en annan, mindre ö, Île d'Yeu där vi ankrade för natten innan vi åter vände mot fastlandet. Denna gång hade vi vind från aktern och kunde prova vårt undanvindssegel "Blue Water Runner" Äntligen! Vilken lycka! 😊 Det fungerade fantastiskt bra och kombinerat med vindrodret kommer atlantöverfarten att gå som en dans! Vi lade till vid Les Sables-d'Olonne. En stor strand vid en mindre stad. Här var det fullt ös med alla typer av (dyra) vattenleksaker man kan tänka sig. Vi kunde lägga oss vid en boj vid stranden och hamnade mitt bland kitesurfare, vindsurfare, wingsurfare, vattenskoteråkare och flera andra mer eller mindre livsfarliga sätt att färdas på vattnet. Här hade vi vår varmaste dag hittills på vår resa och, modiga som vi är, bestämde vi oss för att bada i det 18-gradiga vattnet!
Det som slår oss är de oändliga stränder som finns längs hela franska atlantkusten. Vi förstår inte varför franska Rivieran mot medelhavet är så hypat i jämförelse.
Nu ligger vi vid ön Île de Ré och har vi avverkat ungefär halva franska delen av Biscayabukten eller Golfe De Gascogne som det egentligen heter här. Framför oss väntar en raksträcka med en lååång strand utan möjlighet till skydd varför vi kommer att segla i ca 1,5 dygn tills vi kommer till slutet av den franska gränsen och därefter väntar den sista delen av Biscayabukten på spanska sidan.
Sailboats Regatta (Bénodet)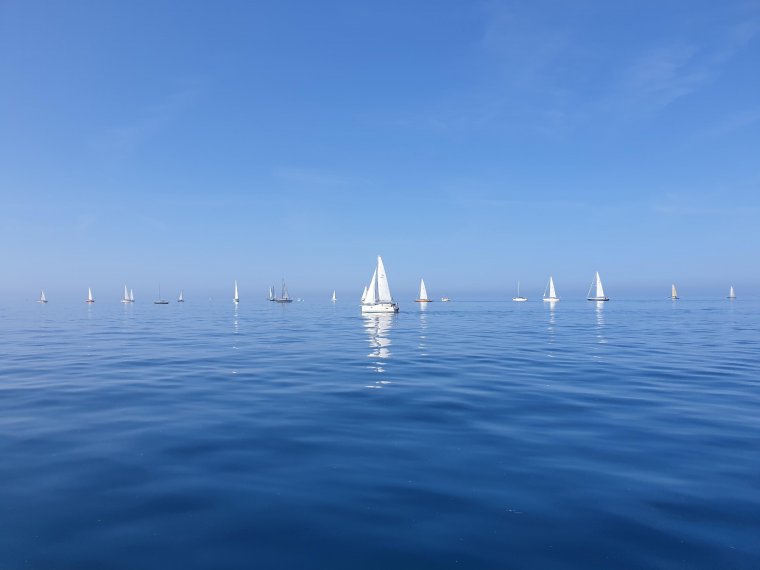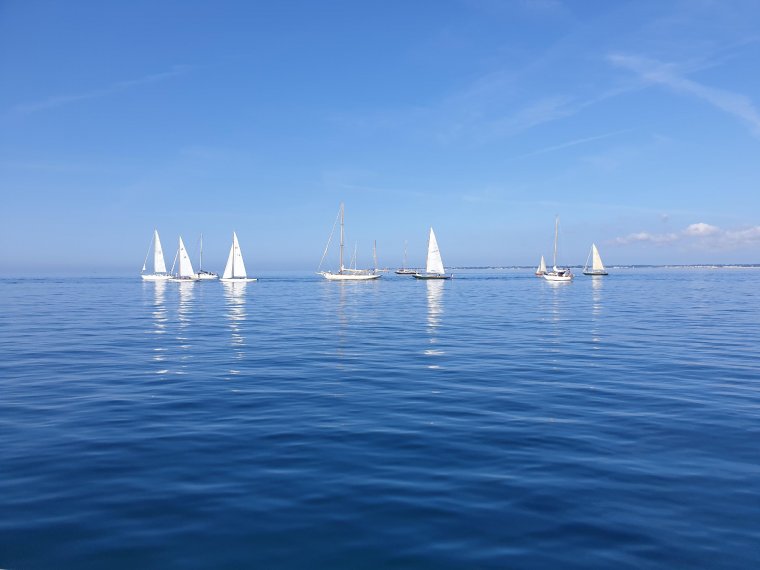 Racing boats (Kernevel)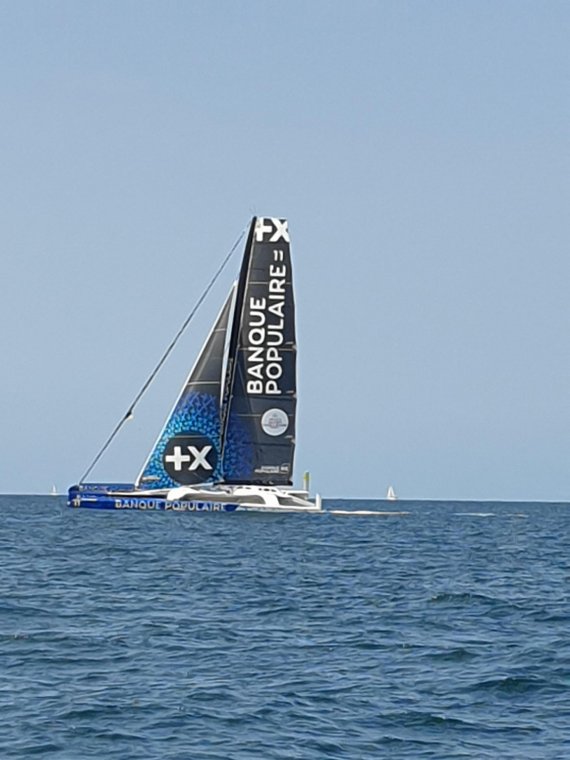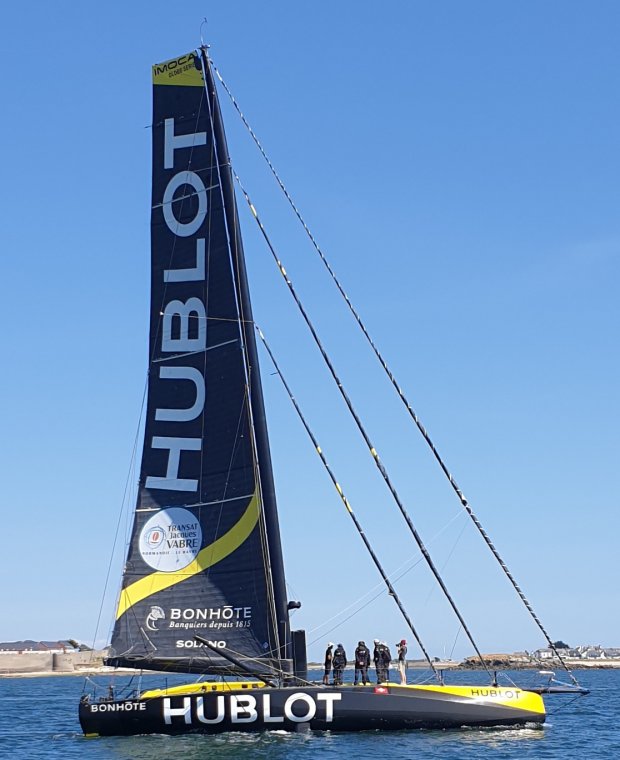 Ocean Sunfish and the beach on Belle Île en Mer (without nudists 😊)

Our Blue Water Runner in action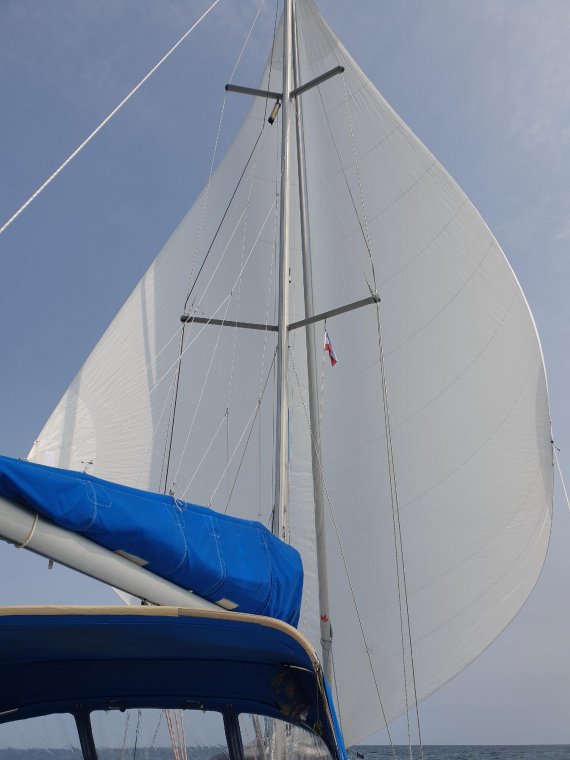 Watersports and a swim at Les Sables-d'Olonne