06 July 2023 written by Malin
The 24-hour sailing from Île de Ré was tougher, rainier and bumpier than planned and what the weather forecast had promised. We certainly got our fair share of Biscay's infamous waves! It was difficult to get any sleep between the watch shifts, but otherwise the crew was in good spirits and mightily impressed with how well the self-steering windvane worked. Now we could set it for a specific wind direction and sail setting and it steered the boat super fine over the big waves. There weren't many hours we had to steer by hand. Anastacia's autopilot had never managed this! With two reefs in the sails and the tide with us, we finally sailed into the Franco-Spanish border in the Basque Country.
The river Biasoda forms the border between the countries and the bay is considered a "neutral" zone. On the French side is the small town of Hendaia and on the Spanish side, Hondarribia. Both towns have their own harbor and moorings for visiting sailors but at low tide we realized that it would be too shallow for Anastacia in many of the places. In addition, we were limited by mast height as the nearby airport on the Spanish side put an end to tall masts like Anastacia's. However, we could instead anchor protected (and for free) at the mouth of the river on the Spanish side. Once there, the next question appeared. Should we keep the French courtesy flag raised or switch to the Spanish one? After some discussion, the Spanish flag was raised. After a while, however, it was quickly dragged down again. Malin had consulted "Naughty almanack" and it said that if you raise the Spanish flag, it can be perceived as provocative by the Basques. Even worse if the Basque flag is raised under the national flag... The advice was: better no courtesy flag at all than flying the "wrong" flag. At Anastacia there is no Basque flag, so we simply have to go without a guest flag until further notice...
On the first day, the port office on the Spanish side turned out to be closed, even though the opening hours on the door promised otherwise. A friendly lady stopped by and explained that there was a bike race going on nearby and therefore the staff had probably finished work a bit earlier. The lady actually said a lot more in Spanish but unfortunately that was all we managed to catch of the conversation. We thanked her and started googling "bike races" nearby. Christer suddenly became very excited and exclaims: It's the Tour de France going on here! After some research we realized that the next leg of the race would pass through Hendaia on the French side. The race would go along the bay and the long beach that lies along the coast. The next day was therefore spent in Hendaia and we got to see up close all the hullabaloo surrounding the Tour de France. In addition, we were able to watch all the surfers practicing their techniques and skills on the Atlantic waves at the beach. Crowds of joyful people flocked to the streets and a wonderful mix of Spanish, French and Basque was heard. We understood that the Basque identity is strong on both sides and it seems that here in the area one primarily identifies as Basque regardless of nationality. We saw almost only Basque flags in both cities and most people we met were bilingual or trilingual (English does not count here 😊). On signs and information boards, Basque applies first and then French and Spanish respectively. We can reasonably understand French and Spanish, but Basque is completely impossible for us to comprehend, even though it sounds very beautiful. Apparently, it is a very old language where no one has been able to demonstrate kinship with other known languages!
At the bay where Anastacia is anchored, there are lots of different water activities going on every day for both children and adults. Here, there is a sailing school or children as well as canoeing or paddling with generously large stand-up paddleboards, where there is a competition to see how many children (and adults) can fit on a paddleboard before everyone falls in the water... There is so much diving, swimming, playing and laughing around us and it is a true blessing to hear so much joy.
Here we stayed longer than planned but soon we will take off further along the Spanish (Basque) coast.


Dygnsseglingen från Île de Ré blev tuffare, regnigare och gropigare än planerat och vad väderprognosen utlovat. Vi fick verkligen vår beskärda del av Biscayas ökända vågor! Det var svårt att få någon sömn mellan vaktpassen men i övrigt var besättningen vid gott mod och mäkta imponerade över hur bra vindrodret fungerade. Nu kunde vi ställa in det för en viss vindriktning och segelsättning och det styrde båten superfint över de stora vågorna. Det var inte många timmar vi behövde styra för hand. Detta hade Anastacias autopilot aldrig klarat! Med två rev i seglen och tidvattnet med oss seglade vi slutligen in till fransk-spanska gränsen i Baskien.
Floden Biasoda utgör gräns mellan länderna och viken räknas som "neutral" zon. På franska sidan ligger den lilla staden Hendaia och på den spanska sidan ligger Hondarribia. Båda städerna har var sin hamn och bojplatser för gästande seglare men vid lågvatten insåg vi att det skulle bli för grunt för Anastacia på många av platserna. Dessutom var vi begränsade av masthöjden då den närliggande flygplatsen på spanska sidan satte stopp för höga master som Anastacias. Vi kunde dock istället ankra skyddat (och gratis) vid flodens mynning på spanska sidan. Väl på plats dök nästa fråga upp. Skulle vi behålla den franska gästflaggan hissad eller byta till den spanska? Efter lite diskussioner hissades den spanska flaggan. Efter en stund halades den dock snabbt ner igen. Malin hade konsulterat "Naughty almanack" och där stod det att om man hissar den spanska flaggan så kan det uppfattas som provocerande av baskerna. Ännu värre om den baskiska flaggan hissas under nationsflaggan… Rådet var: hellre ingen gästflagga alls än att flagga "fel". På Anastacia finns ingen baskisk flagga så vi får helt enkelt gå utan gästflagga tills vidare…
Första dagen visade sig hamnkontoret på spanska sidan vara stängt, trots att öppettiderna på dörren lovade annat. En vänlig dam stannade till och förklarade att det pågick ett cykellopp i närheten och därför hade troligen personalen slutat lite tidigare. Damen sa egentligen mycket mer på spanska men det var tyvärr allt vi hann snappa upp av konversationen. Vi tackade så mycket och började googla på cykellopp i närheten. Christer blev plötsligt mycket exalterad och utbrister: Det är ju Tour de France som går här! Efter lite utforskande insåg vi att nästa etapp av cykelloppet skulle passera genom Hendaia på franska sidan. Loppet skulle gå längs med viken och den långa badstranden som ligger utmed kustsidan. Nästa dag tillbringades därför i Hendaia och vi fick på nära håll ta del av allt ståhej kring Tour de France. Dessutom kunde vi passa på att beskåda alla surfare som tränade sina tekniker på atlantvågorna vid stranden. Massor av glada människor flockades på gatorna och en salig blandning av spanska, franska och baskiska hördes. Vi förstod att den baskiska identiteten är stark på båda sidorna och tolkar det som att man här i området i första hand identifierar sig som basker oberoende av nationalitet. Vi såg nästa bara baskiska flaggor i båda städerna och många vi mötte var både två- och trespråkiga (engelska räknas inte här 😊). På skyltar och informationstavlor gäller baskiska först och sedan franska respektive spanska. Franska och spanska klarar vi någorlunda av att förstå men baskiskan är helt omöjlig för oss att begripa även om den låter väldigt vackert. Tydligen är det ett mycket gammalt språk där man inte har kunnat visa på släktskap med andra kända språk!
Vid flodmynningen där Anastacia ligger pågår det dagligen massor av olika vattenaktiviteter både för barn och vuxna. Här ordnas det med seglarskola liksom kanotpaddling eller paddling med generöst stora ståbrädor (SUP) där man tävlar om att se hur många barn (och vuxna) som kan få plats samtidigt innan alla trillar i... Det dyks, badas, tjoas och skrattas och det är en lisa för själen att höra så mycket glädje runt oss.
Här blev vi kvar längre än planerat men snart bär det av vidare längs den spanska (baskiska) kusten.
Some pictures from Hondarribia. Older district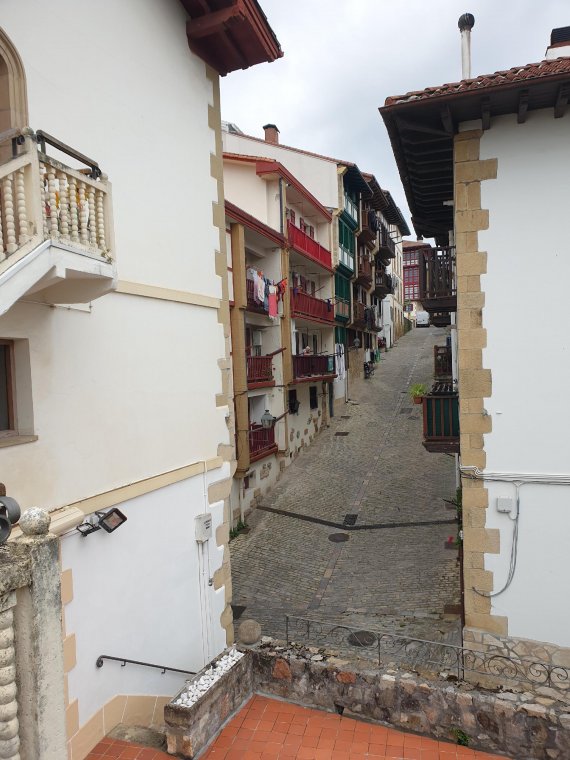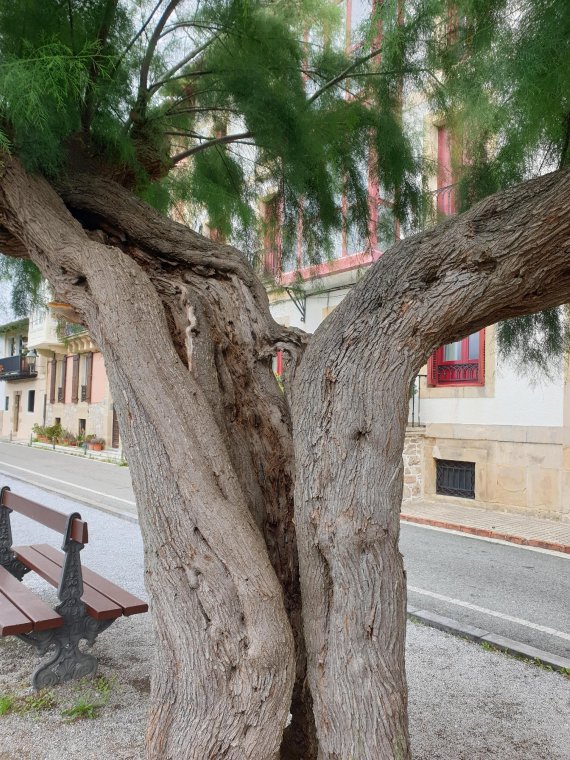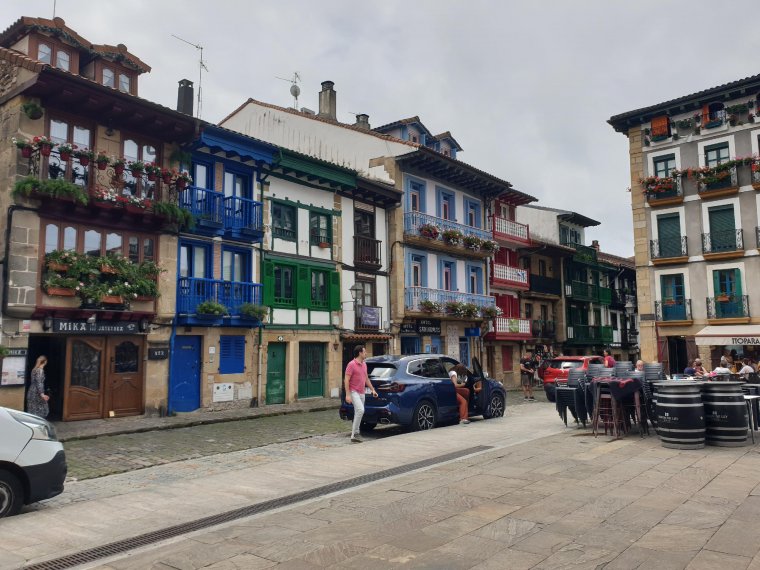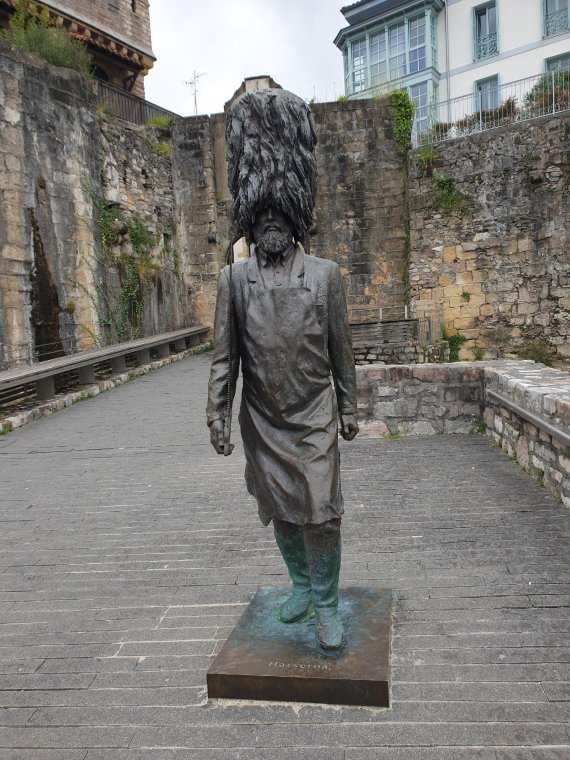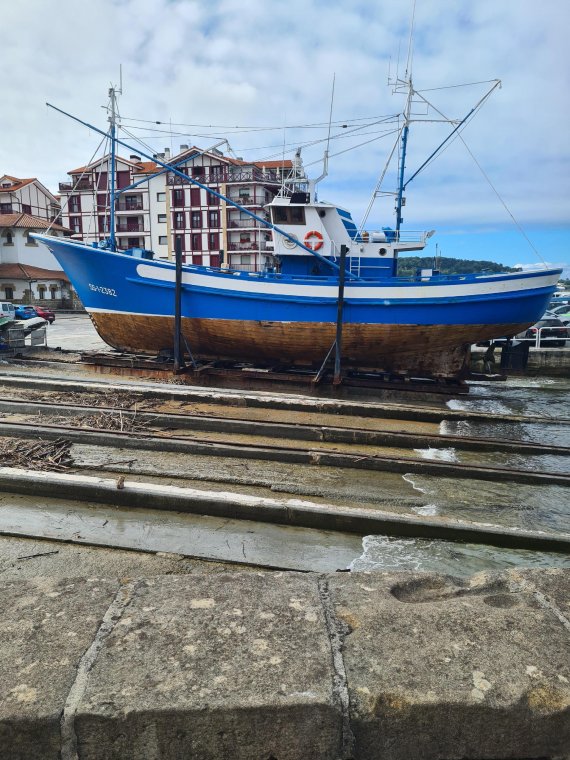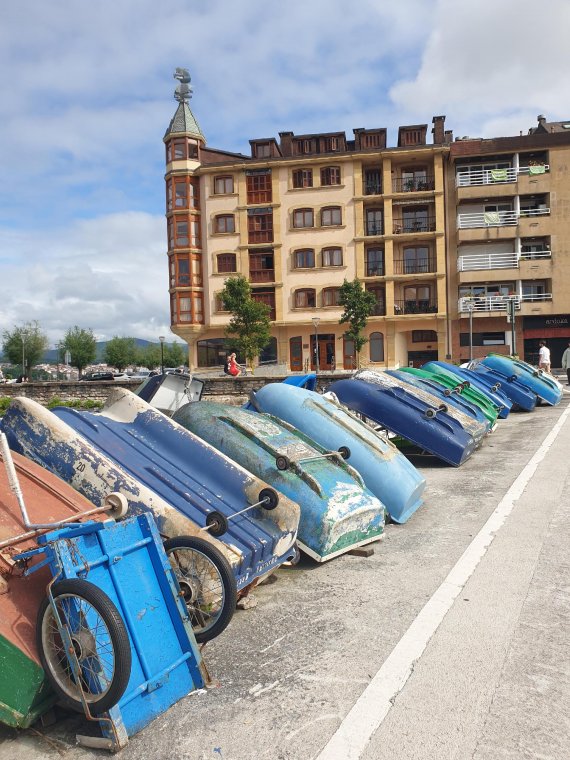 Water activities at the bay of Hondarribia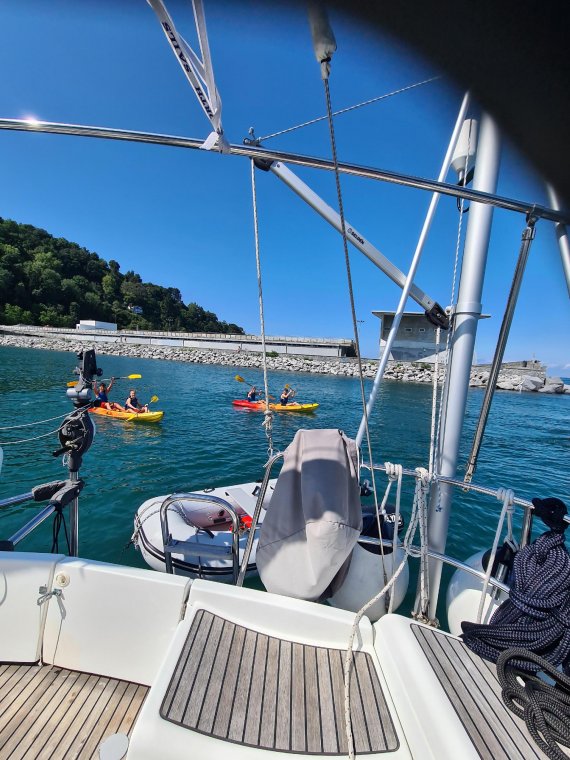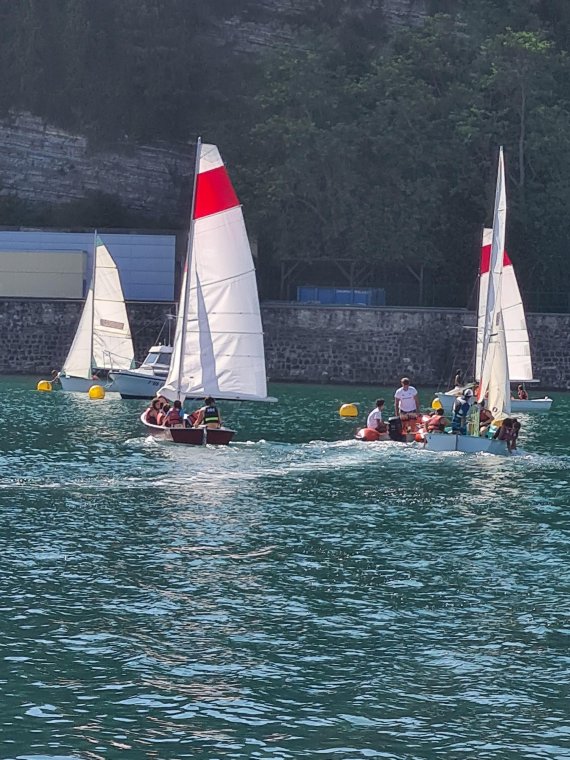 Arraun - Row/Oar in Basque
Beach at Hendaia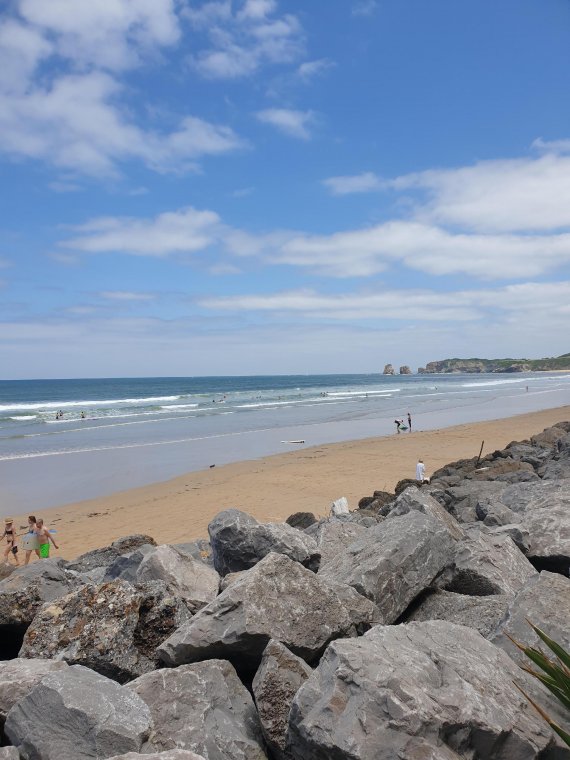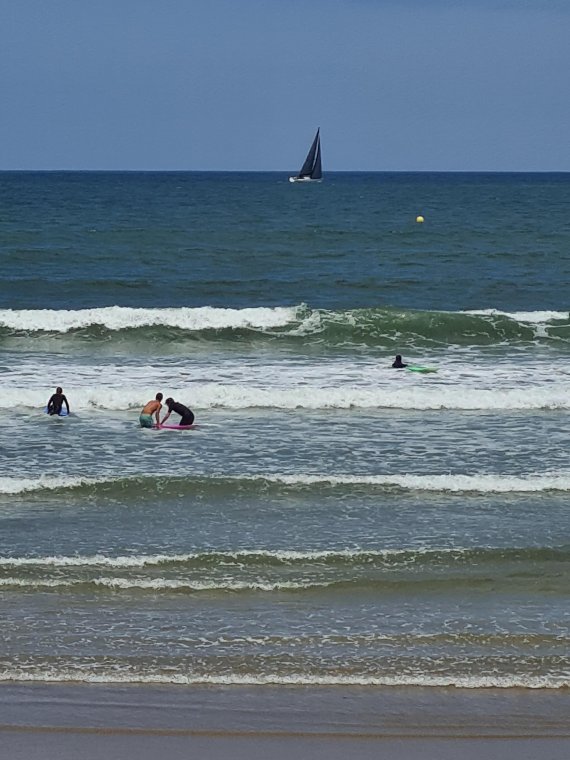 Tour de France. Hendaya