27 July 2023 written by Malin
We left the Basque Country and sailed further west, along Biscay towards Cantabria. The next stop was Santander, which is well protected in a bay. We anchored outside the harbor, opposite one of the beautiful sandy beaches that lie on either side of the bay. On the Spanish election day, we disembarked and, as we had previously seen in Getxo and in Bilbao, the election campaign was in full swing. Not only are election posters put up here, but cars also drive around and call out election messages through the loudspeakers. Many cafes and bars also seemed to be open extra for this special despite being a Sunday. It was difficult to understand how much commitment to the election was among the population. Not so strange, perhaps. It is holiday time in Spain and we have understood that many have voted early. You probably don't talk politics with tourists either...
Our goal on the first day was to visit the museum at Altamira and managed to rent a small car for a few hours. We drove to the museum, which on this particular day did not charge an entrance fee! In the Altamira area there are several caves, but the limestone cave with the beautiful paintings from prehistoric age is the most famous. The museum is well worth a visit. You are not allowed to visit the cave because the paintings are eventually destroyed by mold, etc., caused by moisture and exhaled air from visitors, but since a few years ago there is a replica of the cave next to the museum which is incredibly well made! We marveled at how people lived in the area and used the caves in different stages from 35,000 years ago and later. The paintings found in the Altamira cave have been dated to approx. 15,000 to 12,000 BC and are surprisingly detailed. They are painted with different colors, including ocher and charcoal, and the artist(s) had tried to use different contours and cracks in the cave's ceiling and walls to give the animal images as "alive" and realistic impression as possible. This, which we read about in the school books ages ago, we could now see with our own eyes. We were a bit taken aback... Most touching was seeing the handprints left behind. There it is believed that the artist put his hand against the cave wall and then, with his mouth, blew paint over it so that it became an impression (like a photo negative). Here we stood, 15,000 years later, looking at someone's handprint that might as well have been our own. A gigantic distance in time but at the same time, no distance at all…
After spending the whole day at Altamira, we went back to the boat and held our own little Spanish election night... Quite frankly, we breathed a sigh of relief when the right-wing populists didn't get as many votes as predicted...
We arrived in Santander just as the festivities surrounding "Semana Grande" (approx. big/long week) began. Various concerts, festivities, markets etc. are held for a longer period of time. We got to listen to live music that echoed out into the bay, from widely different artists with different styles, right into the wee hours - every night 😊. One morning we woke up at 5 o'clock because some nice but slightly over-refreshed young people came up with the brilliant idea of getting to our boat to talk through the bravado of the evening and the night. Christer had to kindly but firmly ask them to go home and go to bed... They looked at him shocked and apologized. They probably thought no one was in the boat and there seemed to be plenty of room on the boat's bathing dock...
Santander has really embraced culture in various forms. In the city there are several sculptures from different artists and in the architecturally cool building by the harbor, Centro Botin, various works are displayed at regular intervals. In addition, there are several museums and historical buildings to visit for those interested. We chose Centro Botin, which showed works by, among others, Eva Fàbregas and Roni Horn. Unfortunately, we probably didn't give the artworks the appreciation they probably deserved. We were still engrossed in the paintings and life in the prehistoric Altamira…
We are now waiting for better weather to be able to move on, the last stage across Biscay.
~~~~~~~~
Vi lämnade Baskien och seglade vidare västerut, längs Biscaya mot Kantabrien. Nästa anhalt blev Santander som ligger väl skyddad i en bukt. Vi ankrade utanför hamnen, mittemot en av de vackra sandstränder som ligger på ömse sidor om bukten. På självaste valdagen gick vi i land och, liksom vi tidigare sett i Getxo och i Bilbao, pågick valkampanjen för fullt. Här sätts inte bara valaffischer upp utan bilar kör också runt och ropar ut valbudskap i högtalarna. Många caféer och barer verkade också ha extraöppet dagen till ära, trots att det var en söndag. Det var svårt att läsa av hur stort engagemanget för valet var bland befolkningen. Inte så konstigt kanske. Det är ju semestertider i Spanien och vi har förstått att många har förtidsröstat. Man pratar nog inte heller politik med turister…
Vi hade som mål första dagen att besöka muséet vid Altamira och lyckades hyra en liten bil för några timmar, Vi körde till muséet som just denna dag inte tog någon entréavgift! I området vid Altamira finns flera grottor men kalkstensgrottan med de vackra målningarna från förhistorisk tid är den mest kända. Muséet är väl värt att besöka. Grottan får man inte besöka p g av att målningarna till slut blir förstörda av mögel m m som uppstår av fukt och utandningsluft från besökare men sedan några år tillbaka finns en replika av grottan i anslutning till muséet som är otroligt välgjord! Vi förundrades över hur människor levt i området och använt grottorna i olika omgångar från 35 000 år sedan och senare. De målningar som finns i Altamiragrottan har daterats till ca. 15000 till 12000 f.Kr. och är förvånansvärt detaljerade. De är målade med olika färger där bl a ockra och kol använts och konstnären/konstnärerna hade bemödat sig att utnyttja olika konturer och sprickor i grottans tak och väggar för att ge djurbilderna ett så "levande" och verklighetstroget intryck som möjligt. Detta, som vi läst om i skolböckerna för evigheter sedan, kunde vi nu se med egna ögon. Vi blev lite tagna… Mest gripande var det att se de efterlämnade handavtrycken. Där tror man att konstnären lagt sin hand mot grottväggen och sedan, med munnen, blåst färg över den så det blev ett avtryck (som ett fotonegativ). Här stod vi, 15 000 år senare, och betraktade någons handavtryck som lika gärna hade kunnat vara våra egna. Ett gigantiskt avstånd i tid men samtidigt, inget avstånd alls…
Efter att ha ägnat hela dagen åt Altamira åkte vi tillbaka till båten och höll en egen liten spansk valvaka… Vi drog, ärligt talat, en lättnadens suck över at inte högerpopulisterna inte fick så många röster som förutspåtts…
Vi kom till Santander precis när festligheterna kring "Semana Grande" (ung. stora/långa veckan) började. Olika konserter, festligheter, marknader etc. hålls under en längre tid. Vi fick lyssna på live-musik som ekade ut i bukten, från vitt skilda artister med olika stilar, ända in på småtimmarna - varje natt 😊. En morgon vaknade vi vid 5-snåret av att några trevliga men lite överförfriskade ungdomar kommit på den briljanta idén att ta sig till vår båt för att snacka igenom kvällens och nattens bravader. Christer fick vänligt men bestämt be dem gå hem och lägga sig… De tittade förskräckt på honom och bad om ursäkt. Troligen trodde de att båten var tom och det såg ju ut att vara gott om plats på badbryggan…
Santander har verkligen anammat kultur i olika former. I staden finns flera skulpturer från olika konstnärer och i den arkitektoniskt coola byggnaden vid hamnen, Centro Botin, visas med jämna mellanrum olika verk. Dessutom finns flera museer och historiska byggnader att besöka för den intresserade. Vi valde Centro Botin som visade verk av bl a Eva Fàbregas och Roni Horn. Tyvärr gav vi nog inte konstverken den uppskattning de förmodligen förtjänade. Vi var fortfarande uppslukade av målningarna och livet tett sig i det förhistoriska Altamira…
Vi väntar nu på bättre väder för att kunna ta oss vidare, den sista etappen över Biscaya.
Altamira museum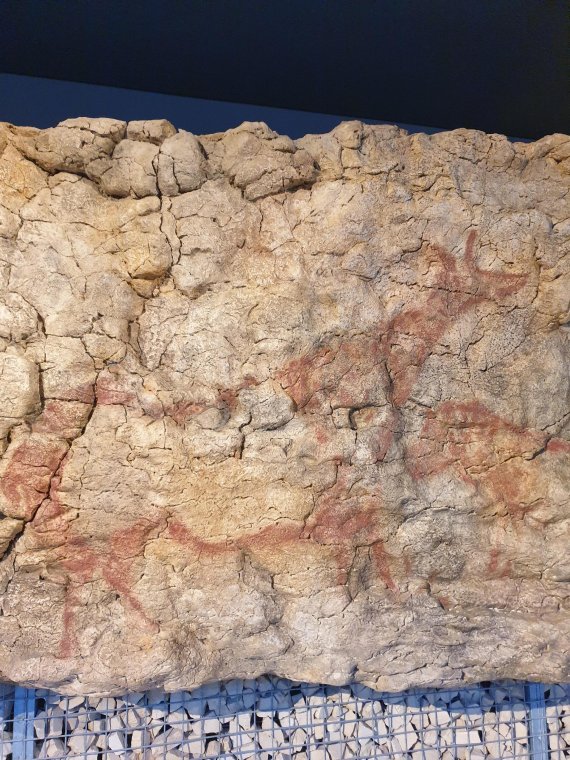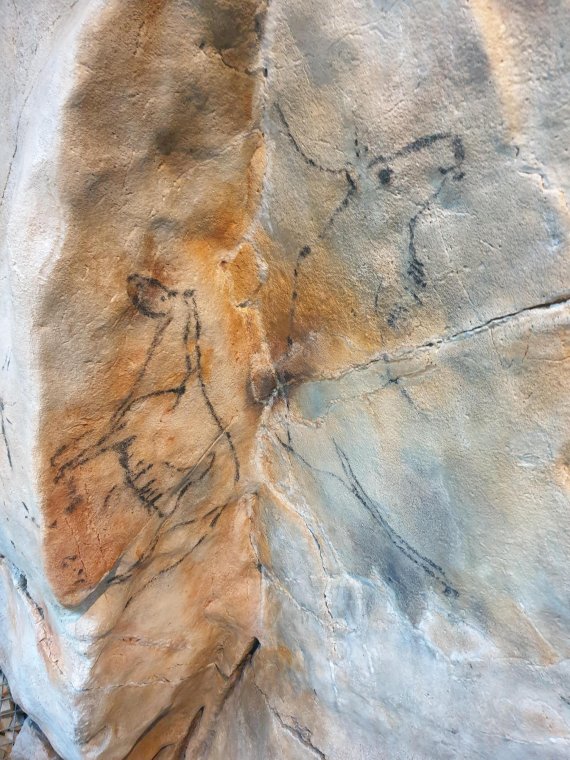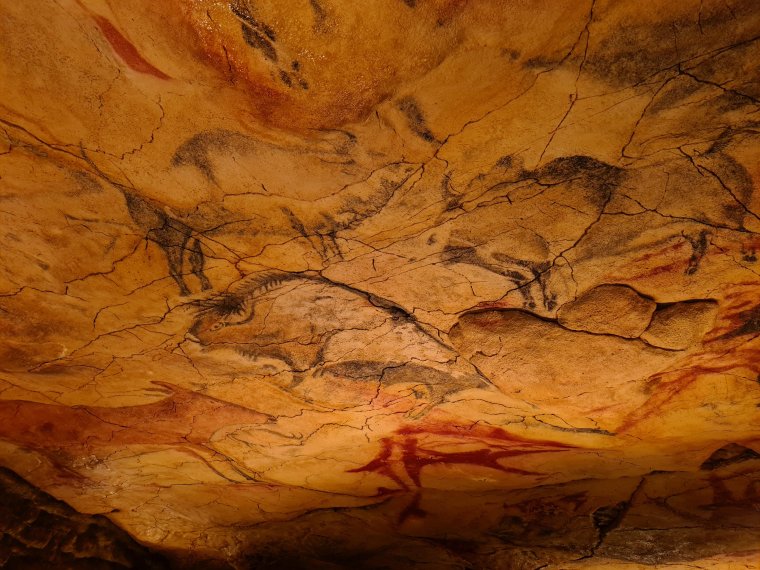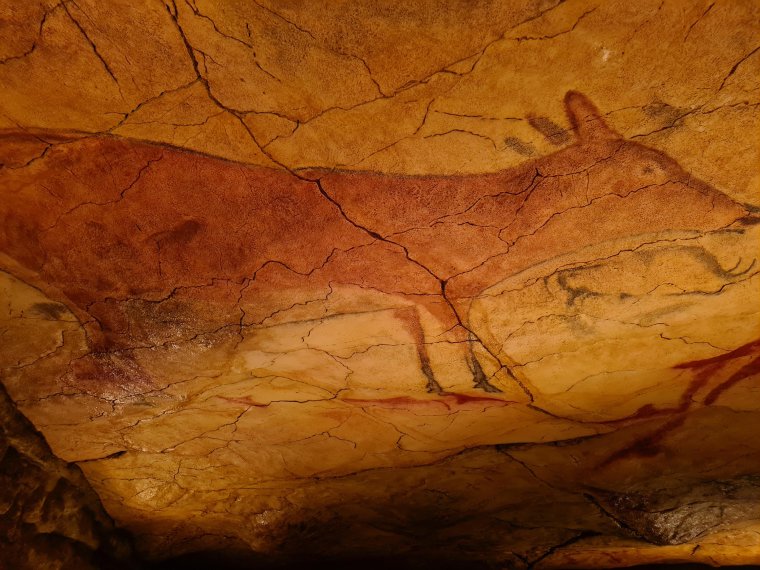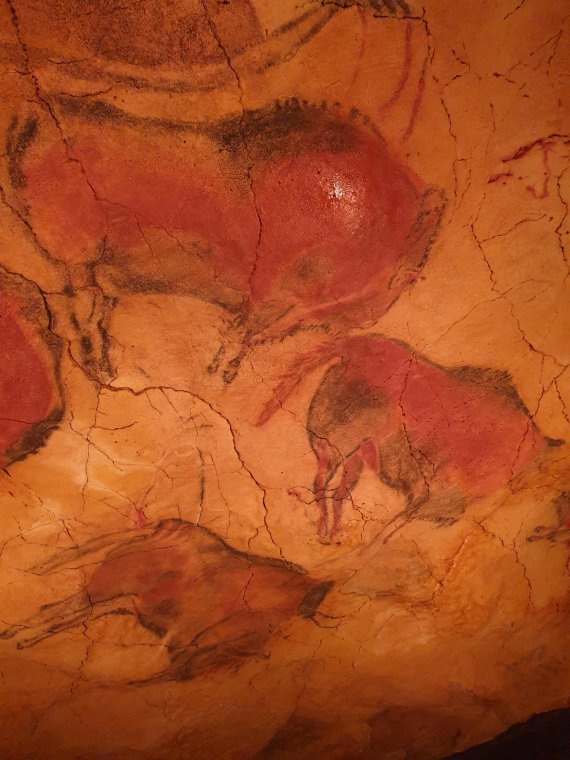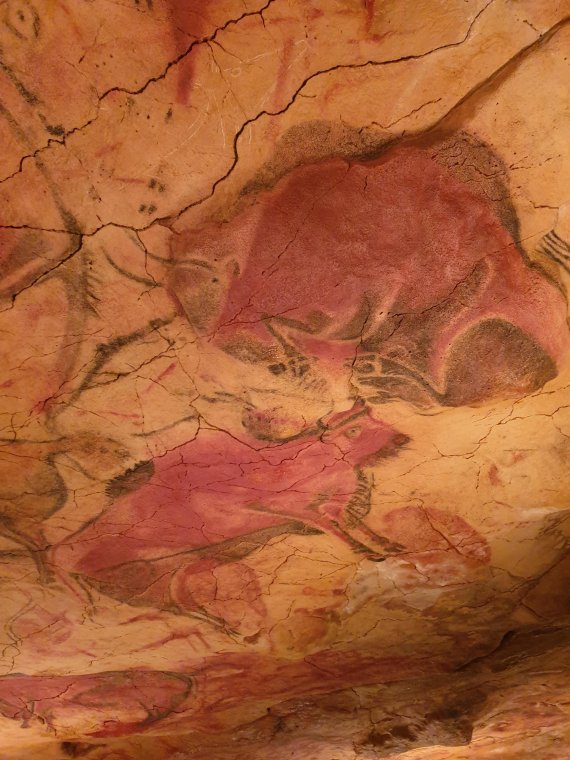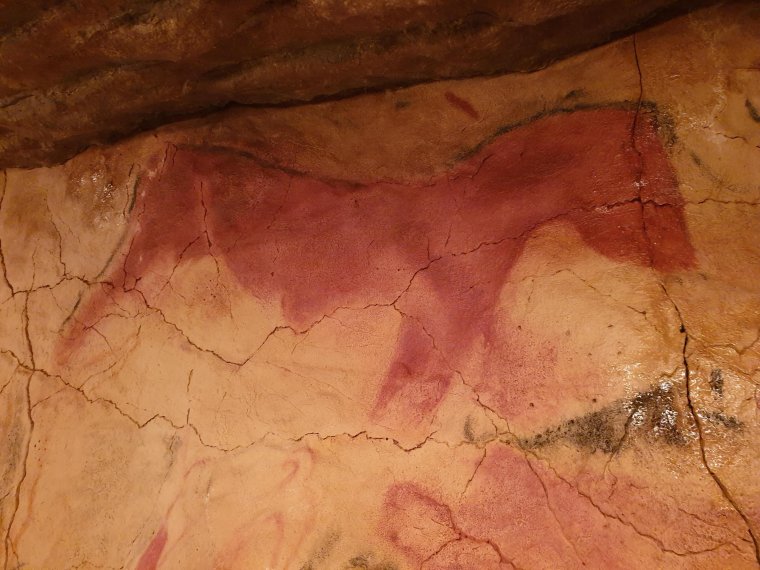 Monuments and sculptures, Santander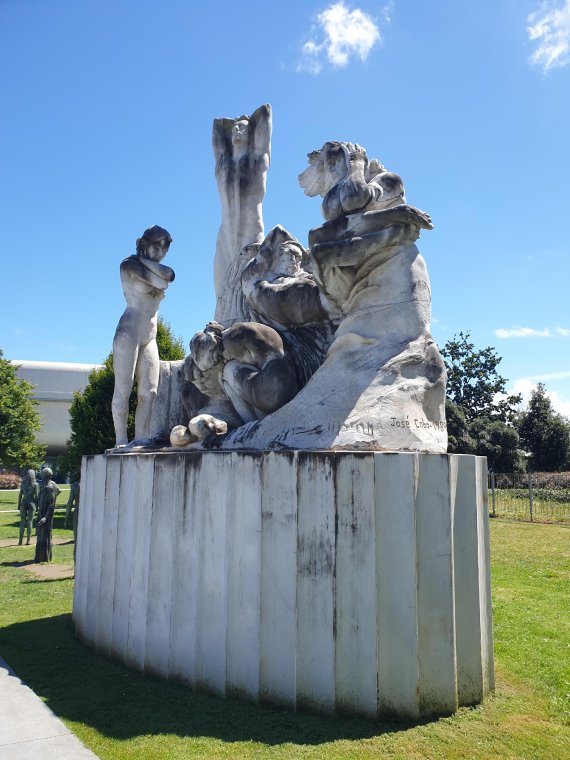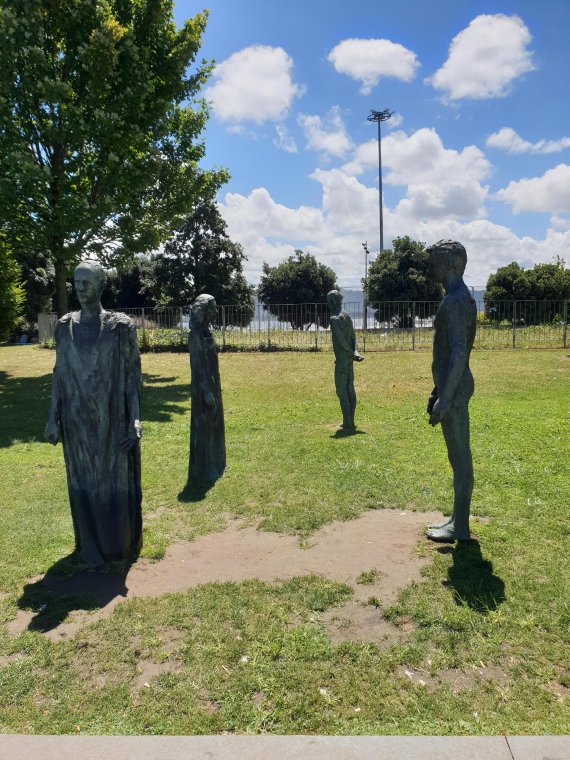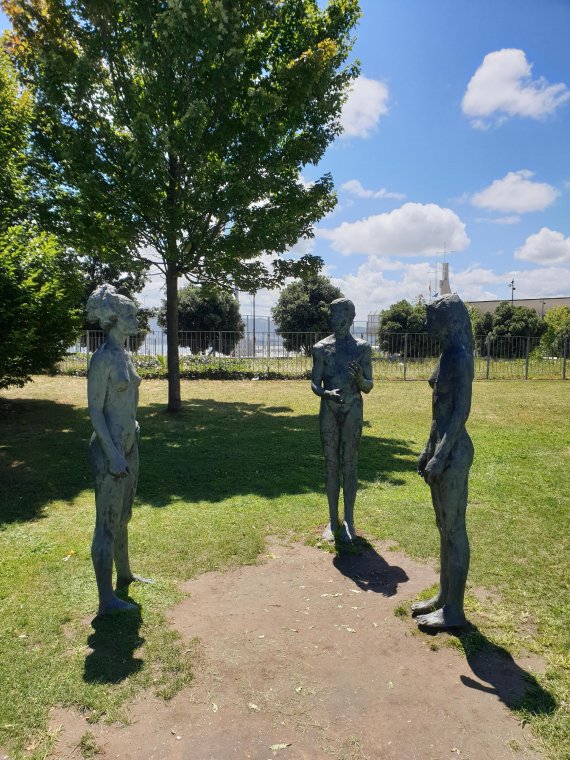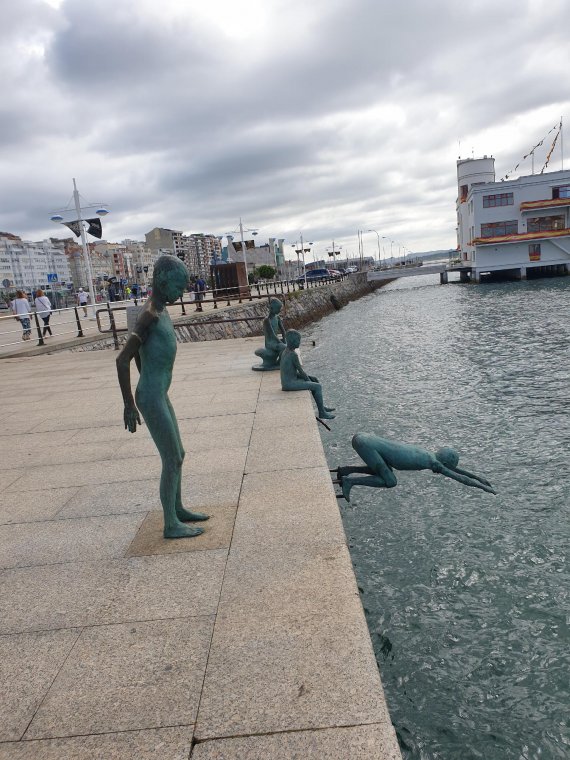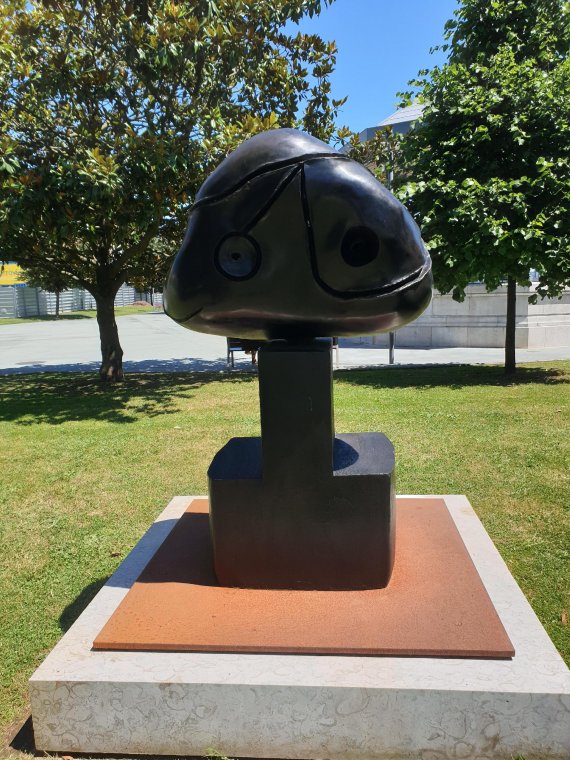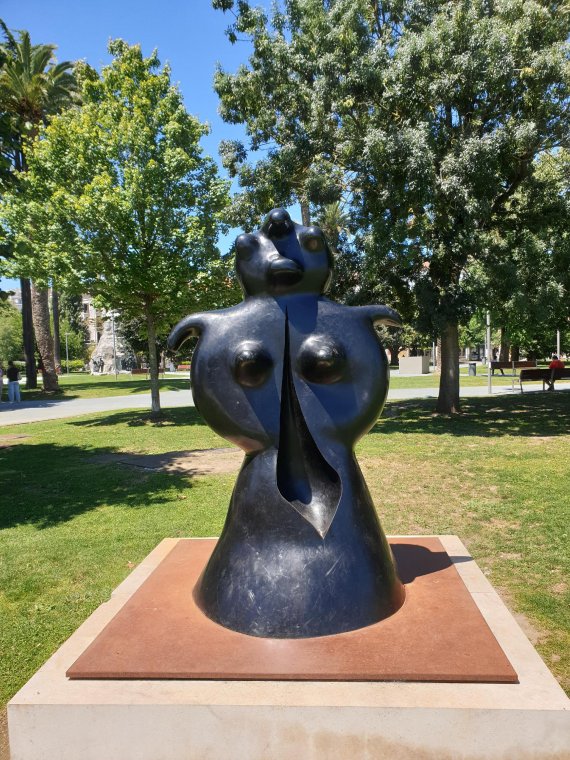 Centro Botin, Palacio Real de La Magdalena and arena besides the harbour