04 September 2023 written by Malin
Anastacia was reorganized after our guests had left Porto and the next stop was Aveiro. We anchored together with some other sailors next to the beach at São Jacinto where there was a military base with aircraft and infantry. Small fast motorboats shuttled with what we believe were command transports. We were also soon visited by the Portuguese Maritime Police who inquired about who we were and where we were going. We invited them for inspection but they declined and considered it enough to talk to us a little. We felt quite closely guarded from all sides and dared to neither pick up the binoculars to look a little closer at the surroundings nor take some photos. You didn't want to be accused of being a MOP (Militarily Over-Interested Person)! 😉. The whole river system in Aveiro otherwise looked exciting with the Aveiro Lagoon branching off in different directions. Had the tidal current not been as strong as it was with its 4-5 knots, we would have liked to explore the area more. Now we were happy to have found a sheltered spot and could wait out the fog that had crept in and settled over the whole area. Two days later in the afternoon, it had eased enough that we could sail on. Late in the evening we arrived in Figueira da Foz which was beautifully illuminated by the blue moon.
In Figueira da Foz we stocked up and were later invited to another Swedish sailboat that was also in the marina, S/Y Lulu, with Magnus and Jodi on board. It turned out that we had some mutual acquaintances and we will surely bump into each other at more ports in the future when they will cross the Atlantic with the ARC (Atlantic Rally for Cruisers) in November 2023 from Las Palmas. You can find their blog here: https://anderssonsailing.com/
Just before we left Figueira, we managed to see how the entire harbor promenade had been transformed into a flea market/antique market, over 500 meters long, with hundreds of market stalls where all imaginable old stuff was sold such as LPs, old coins and stamps, smaller furniture, carpets, paintings, clothes, tools, machines, housewares, jewelry, etc. Many people had gathered at the various vendors and there was a lively atmosphere with discussions, exclamations and haggling over the goods.
At Nazaré, our next stop, we stayed for a few days. Nazaré is best known for its large waves that roll into the northern shore. World surfing championships are held here and the largest wave in Nazaré to date is said to have been up to 30 meters high! This is the surfer's paradise where people come from all over the world when the Atlantic waves start to get high, which usually happens in late autumn. The fact that the waves are so big right here is due to the large, several hundred meters deep, underwater canyon that lies just south of the long beach. The combination of waves from the deep and waves from the shore sometimes creates perfect conditions for super-waves. New records are expected this autumn as it is an El Niño-year and the storms from the west that lay the foundation for the Atlantic waves are expected to be extra strong. You can read more about the special conditions of the super waves in Nazaré here: https://www.surfertoday.com/surfing/the-mechanics-of-the-nazare-canyon-wave
However, Nazaré is, of course, also more than a surfing paradise. The city is located along a mountain and is built on two levels with a height difference of about 100 meters. For those who cannot bear to walk/cycle between the city districts, there is a funicular/mountain railway you can ride. We compromised by walking to the northern part of town to admire the view and the northern beach and then taking the funicular back to the southern side where the marina is located. There are also some pine plantations here where the resin is extracted, which, processed and refined, is used in all sorts of products. Everything from perfumes to glues and various oils. The southern beach also offers waves, albeit a little more manageable for us less adventurous. Along the promenade, many elderly ladies stand at simple market stalls selling dried fish and squid. We stopped at one of them and bought some fish for 1 EUR. She smiled when we asked if we could take a picture and she gladly posed. Once in the boat, we tasted the "snacks" and found it edible and safe to feed on - in case of emergency...
Our friends in S/Y Lulu also paid us a visit and now we are waiting for enough stable wind to continue towards Lisbon. Unfortunately, the wind is from the south, so we will have to tack...
~~~~~
Anastacia iordningställdes efter att våra gäster hade lämnat Porto och nästa anhalt blev Aveiro. Vi ankrade tillsammans med några andra seglare intill stranden vid São Jacinto där det låg en militäranläggning med militärflyg och infanteri. Små snabba motorbåtar gick i skytteltrafik med, som vi tror, befälstransporter. Vi fick också snart besök av portugisiska sjöpolisen som förhörde sig om vilka vi var och vart vi var på väg. Vi bjöd in dem för inspektion men de avböjde och tyckte att det räckte med att prata lite med oss. Vi kände oss rätt hårt bevakade från alla håll och vågade vare sig ta upp kikaren för att titta lite närmare på omgivningarna eller ta några foton. Man ville ju inte bli anklagad för att vara en MÖP (Militärt Överintresserad Person)! 😉. Hela flodsystemet i Aveiro såg annars spännande ut med Aveiro Lagoon som förgrenade sig i olika riktningar. Hade inte tidvattenströmmen varit så pass stark som den var med sina 4-5 knop hade vi gärna utforskat området mer. Nu var vi glada över att ha hittat en skyddad plats och kunde vänta ut dimman som kommit smygande och lagt sig över hela området. Två dygn senare hade den lättat så pass att vi, en sen eftermiddag, kunde segla vidare. Sent på kvällen kom vi till Figueira da Foz som låg vackert belyst av blåmånen.
I Figueira da Foz provianterade vi och blev senare inbjudna till en annan svensk båt som också låg i marinan, S/Y Lulu, med Magnus och Jodi ombord. Det visade sig att vi hade en del gemensamma bekanta och vi kommer säkert att stöta på varandra vid fler hamnar framöver då de skall ta sig över atlanten med ARC (Atlantic Rally for Cruisers) i november 2023 från Las Palmas. Deras blogg kan ni hitta här: https://anderssonsailing.com/
Precis innan vi lämnade Figueira hann vi se hur hela hamnpromenaden förvandlats till en, över 500 meter lång, loppis/antikvitetsmarknad med hundratals marknadsstånd där alla tänkbara gamla prylar såldes som LP-skivor, gamla mynt och frimärken, mindre möbler, mattor, tavlor, kläder, verktyg, maskiner, husgeråd, smycken m.m. Många människor hade samlats vid de olika försäljarna och det var en livlig stämning med diskussioner, utrop och köpslående om varorna.
Vid Nazaré, vårt nästa stopp, stannade vi några dagar. Nazaré är mest känt för sina stora vågor som rullar in på den norra stranden. Här hålls världsmästerskap i surfing och den hittills största vågen i Nazaré skall ha varit upp till 30 meter hög! Detta är alltså surfarnas paradis dit man kommer från alla världens hörn när atlantvågorna börjar bli höga, vilket i regel inträffar på senhösten. Att vågorna blir så stora just här beror på den stora, flera hundra meter djupa, undervattensravinen som ligger strax söder om den långa stranden. Kombinationen av vågor från djupet och vågor från stranden skapar ibland perfekta förhållanden för supervågor. I höst räknar man med nya rekord då det är ett el niño-år och stormarna från väst som lägger grunden för atlantvågorna beräknas bli extra starka. Man kan läsa mer om de speciella förhållandena för supervågorna i Nazaré här: https://www.surfertoday.com/surfing/the-mechanics-of-the-nazare-canyon-wave
Nazaré är dock, såklart, också mer än ett surfparadis. Staden ligger längs med ett berg och är byggt i två etager med ca 100 meters höjdskillnad. För den som inte orkar gå/cykla mellan stadsdelarna finns en hiss/bergbana man kan åka. Vi kompromissade gick till fots till den norra stadsdelen för att beundra utsikten och norra stranden och tog sedan bergbanan tillbaka till den södra sidan där marinan ligger. Här finns också några tallplanteringar där man utvinner kådan som, bearbetad och förädlad (t ex harts), används i alla möjliga produkter. Allt från parfymer till lim och olika oljor.
Den södra stranden erbjuder också vågor om än lite mer hanterliga för oss mindre äventyrliga. Längs strandpromenaden står många äldre damer vid enkla marknadsstånd och säljer torkad fisk och bläckfisk. Vi stannade hos en av dem och köpte lite fisk för 1 EUR. Hon sken upp när vi frågade om vi fick ta en bild och hon poserade glatt. Väl i båten smakade vi på "snacksen" och fann det ätbart och säkert OK att livnära sig på - i nödfall…
Våra vänner i S/Y Lulu har hälsat på och nu väntar vi på tillräckligt stabil vind för att fortsätta mot Lissabon. Tyvärr blåser det sydligt så vi lär få kryssa…
Blue moon over Figueira da Foz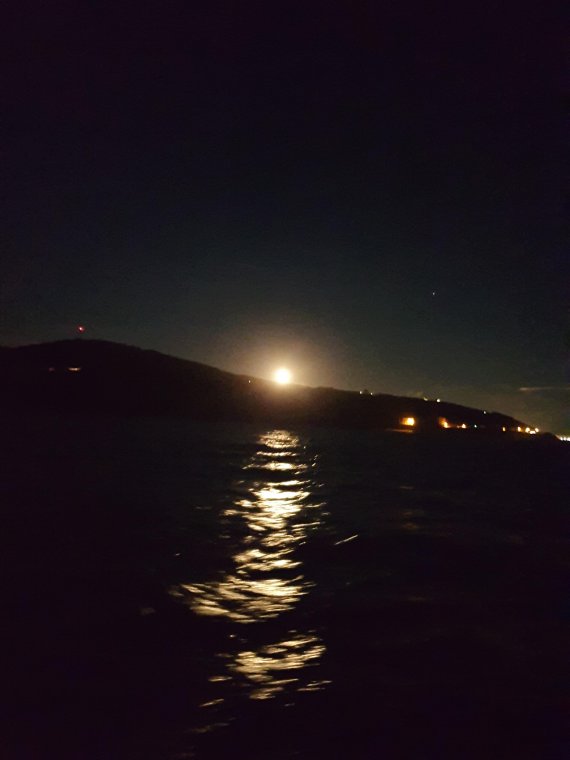 Figueira da Foz and the antique market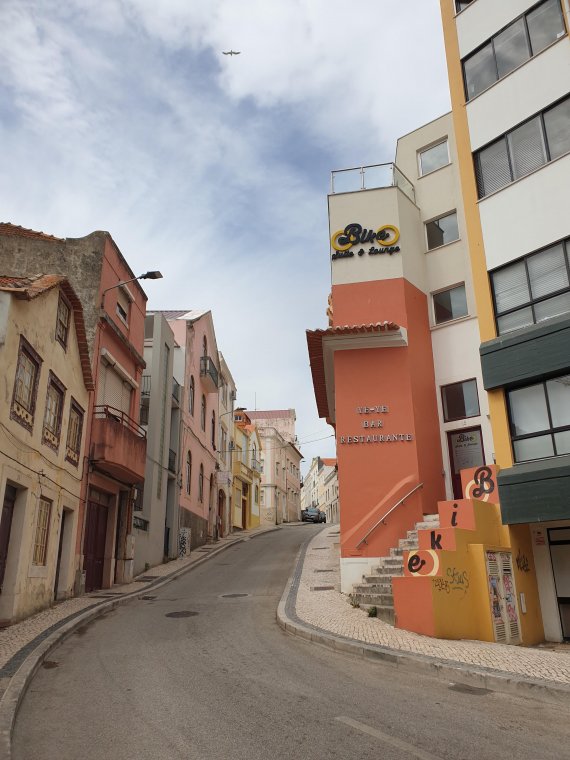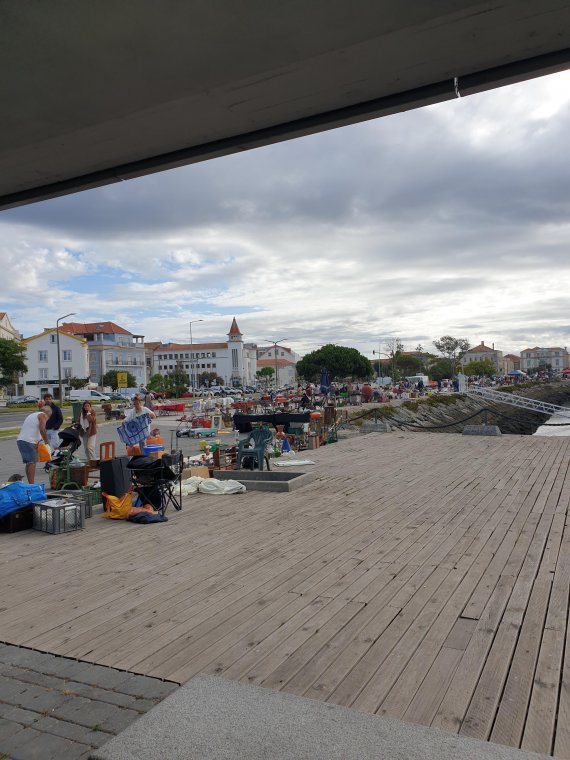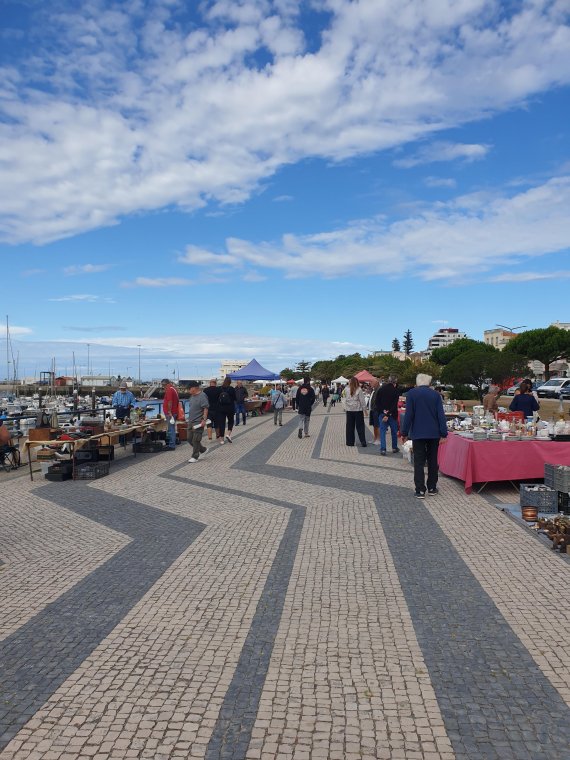 Northern beach. Nazaré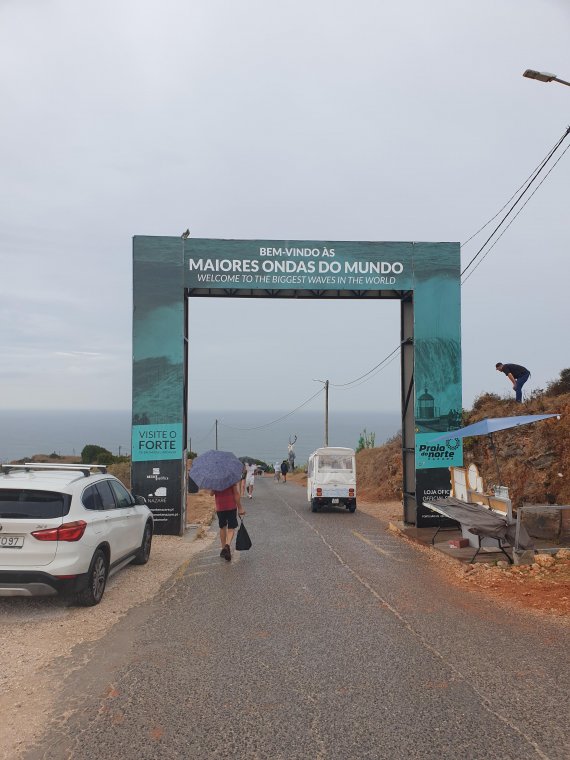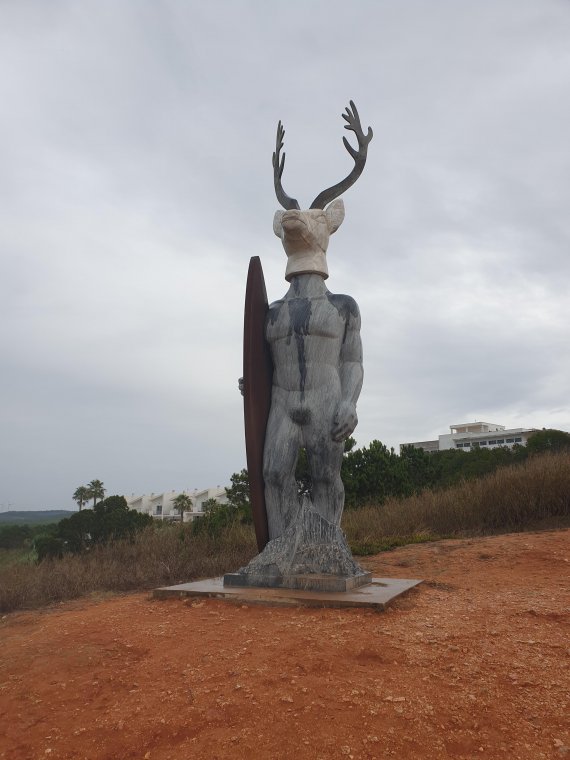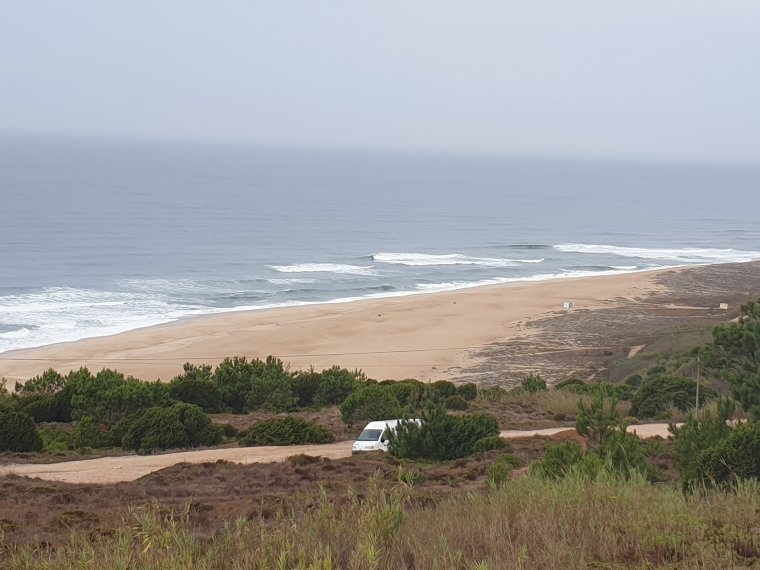 Farol da Nazaré and Funicular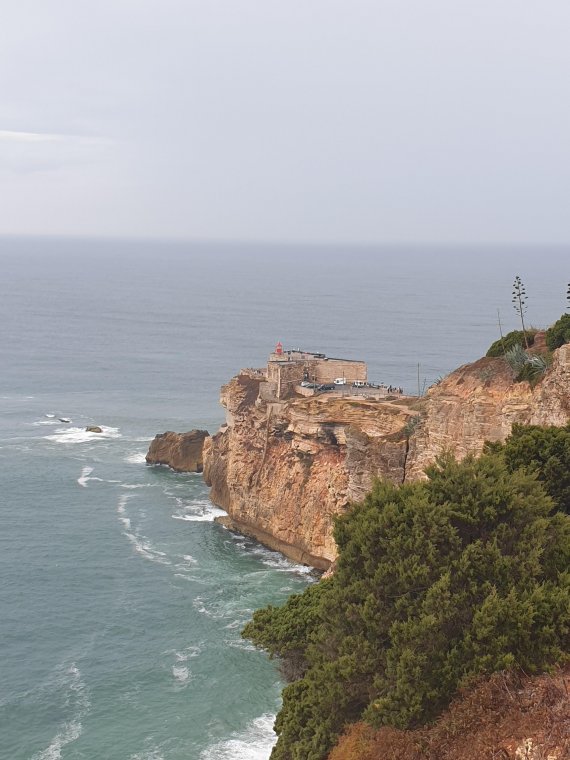 Nazaré city. Southern beach and fish market.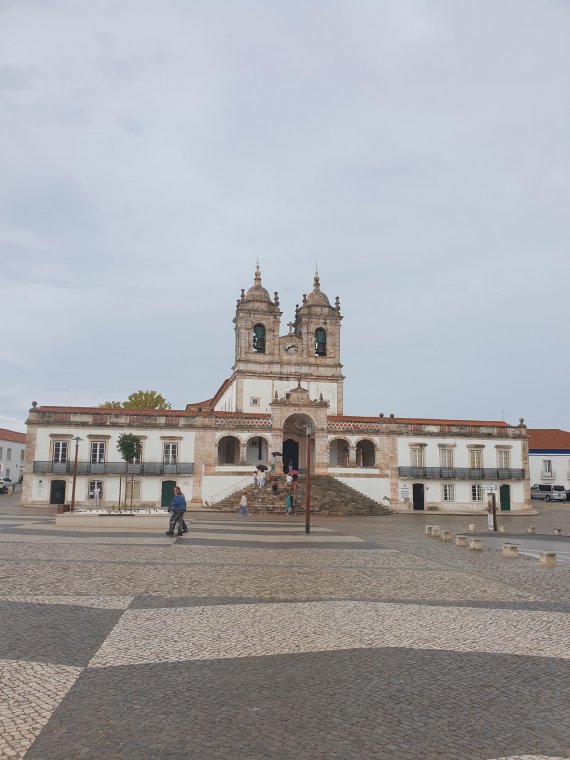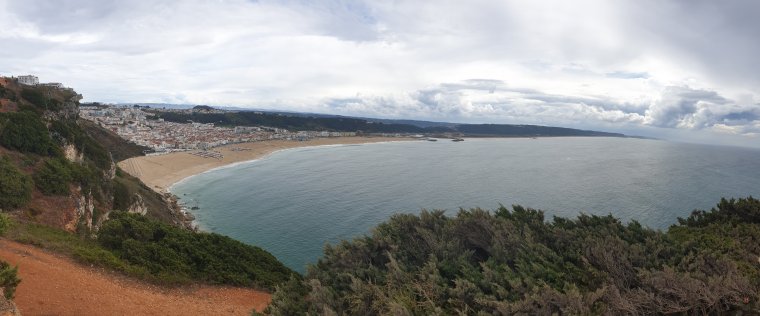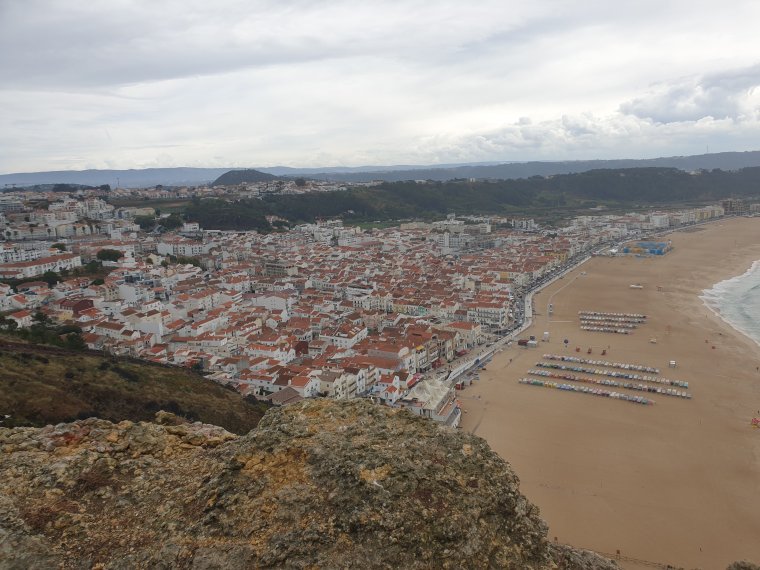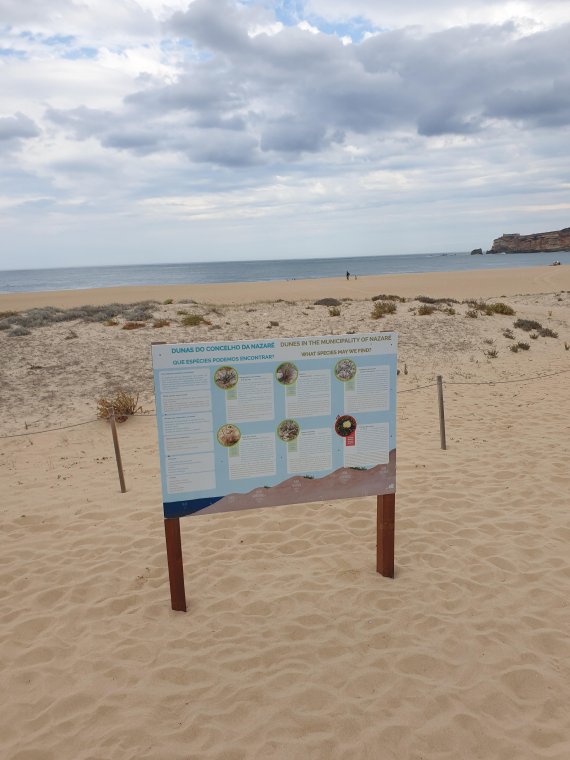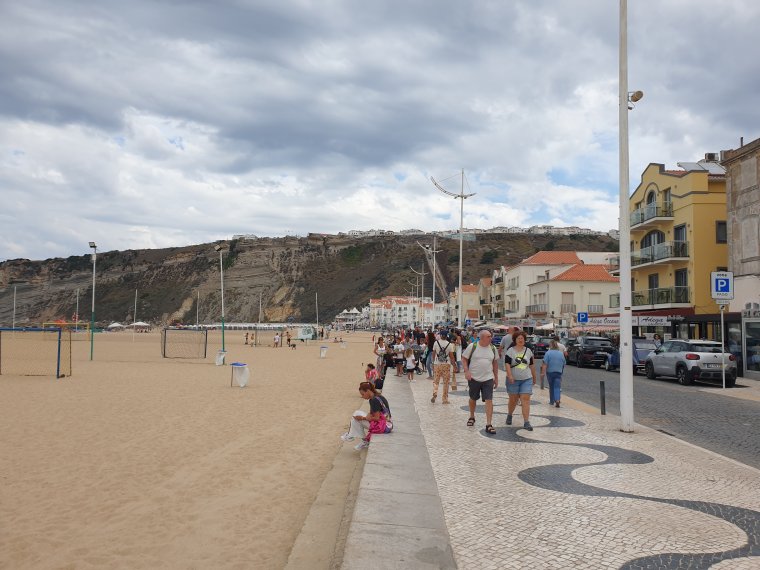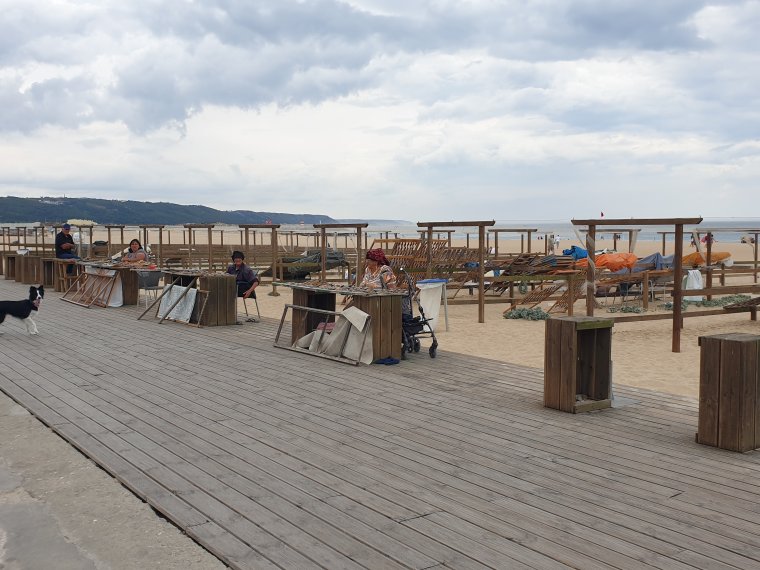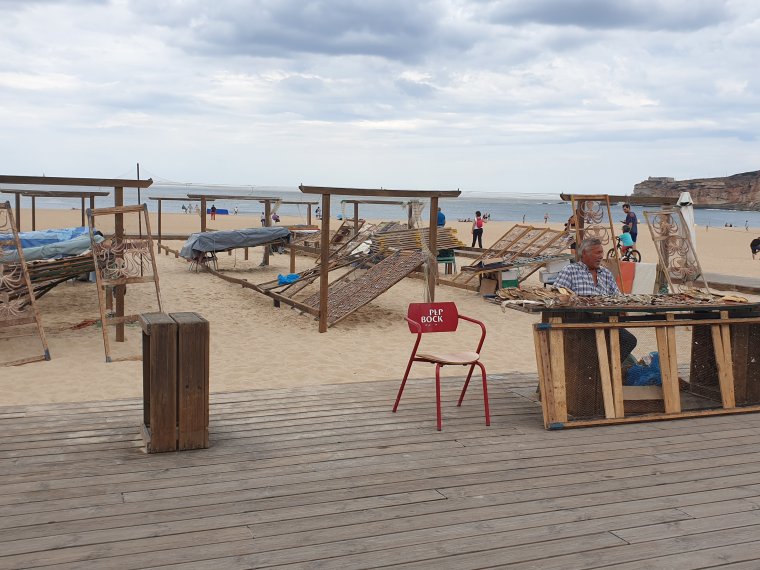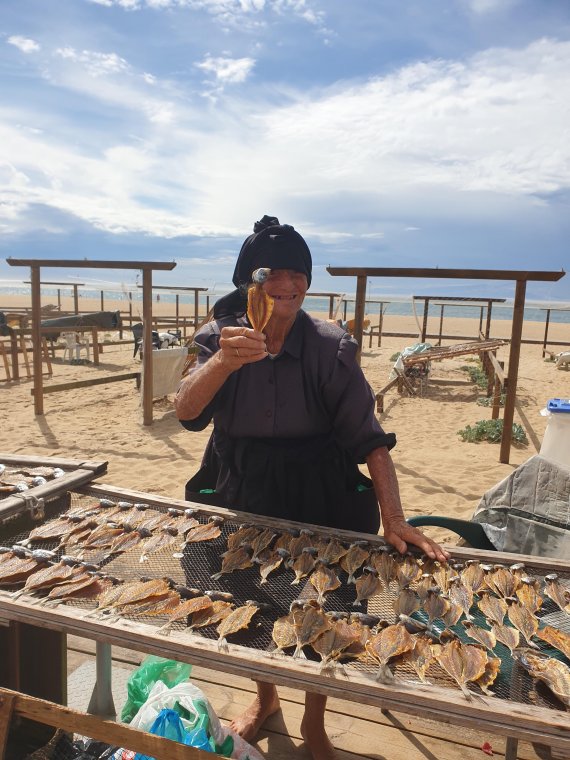 Resin extraction. Nazaré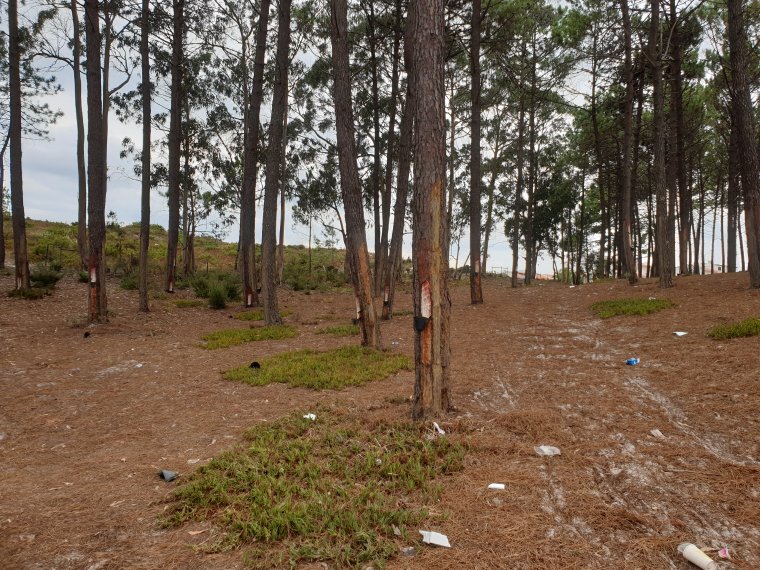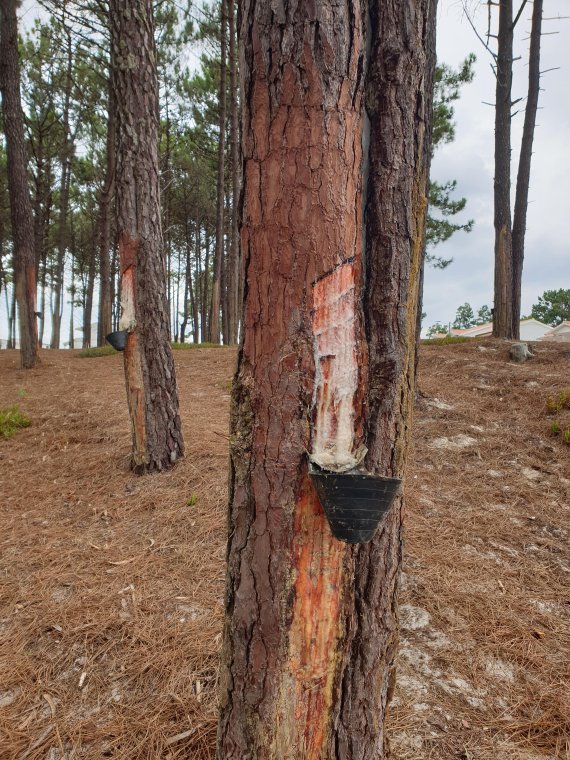 Cat sanctuary, Nazaré