16 August 2023 written by Malin
After La Coruña we sailed further south. With almost no wind we had to motoring for a while before the wind increased and we could set sail. We saw different groups of dolphins greeting us and unfortunately, we also came across a dead, younger dolphin floating in the water. However, a slightly larger group swam for a long time by our boat and surfed the waves after Anastacia. A British sailboat going the same way as us also caught sight of the dolphins and filmed a sequence. They were kind enough to contact us on the VHF and sent us the footage. Thanks to Shirley and Dave at Mojito!
Our first stop was at the ria at O Porto de Corme where we anchored in the bay. Here was a small village with a church and church bells that played a little melody every hour and half hour. A nice touch in an otherwise rather sleepy place. As the wind increased in strength, we had to stay and wait for calmer weather. Now we had to try to find something to do for a few days. Reading books and practicing various useful (and useless) sailor's knots made the time pass. As soon as the wind calmed down and blew in the right direction, we sailed on to Fisterra (Finesterre ~ the end of the world) which is beautifully situated with high hills all around. There are many popular hiking and pilgrimage trails here. Unfortunately, a thick fog came rolling down from the mountains and also high waves right into the bay so we couldn't stay and explore this scenic area as we had planned. After just one night, we had to sail another bit south.
At the next ria, Ria del Muro, however, we stayed for several days. Here we celebrated my (Malin's) birthday with extra good pastries and coffee. Two Estrella Galician beers in the local bar for 2 EUR/beer raised the mood even further. One day, when we entered the village, the pedestrian street had turned into a small market where mostly clothes were sold. Here you had to go through the stalls to get there, which of course led to everyone having to stop as soon as someone wanted to look at a garment. However, people took it easy. Everyone was in a good mood; someone was humming a tune and no one seemed in a hurry. Things just had to take some time. The market stall with the longest queue was where fruit and vegetables were sold. Here, the queue stretched far out onto the road and the salespeople were busy helping the customers. After an hour or so, they had sold out of most of their goods. At 1pm on the day, all the market stalls were packed down and the market was suddenly over. In Muro, the siesta is strictly adhered to. We were used to at least larger grocery stores being open all day in the parts of Spain we had visited so far but here really everything was closed for at least two hours in the afternoon. Luckily, only a few bars were open.
The food in restaurants and bars was simple. Fish and shellfish were served boiled, fried or grilled without major frills but often with lots of garlic. In any case, we thought it smelled like that... At a crowded restaurant, we saw a couple with their children, where the husband ordered a large slice of bread with a whole grilled fish on it, for his 10-year-old son, who ate with great appetite. Christer and I looked at each other. What would our sons have said if we served them something like that when they were the same age? An impossible thought…
After watching the Swedes' bravado in the quarter-final match in the World Cup, it was time to leave again. A day's sailing south brought us to Vigo. Here there were actually several beaches to anchor at, but with the prevailing northwesterly wind, several anchorages fell away. What remained was the nudist beach. There were lots(!) of boats at anchor here and, on most of them, the crew went about their business as usual, albeit without clothes. We felt a bit awkward but, " when in Rome, do as the Romans do", Christer thought and sunbathe in the nuddy. I never had to bother about that because despite the sunshine and 25 degrees in the shade, I was frozen to the marrow. Probably a small cold that just swept by 😊. With clothes up to the ears, I had coffee together with my husband in the cockpit. It must have been a strange sight...
You can request permission to visit the islands just outside the ria in Vigo. They form a national park (Cies islands) which are said to be worth seeing with a rich birdlife. Unfortunately, we did not have time to arrange such a request so we had to view the islands from a distance as it is also not allowed to anchor at them without permission.
After washing both crew and boat, we felt ready to leave Spain and sail on to Portugal. It also meant that the Spanish guest flag is taken down and the Portuguese one is raised.
~~~~
Efter La Coruña seglade vi vidare söderut. Vinden var för svag så det blev motorgång en stund innan vinden tog fart och vi kunde sätta segel. Vi såg olika grupper av delfiner som hälsade på oss och tyvärr stötte vi också på en död, yngre delfin som låg och flöt i vattnet. En lite större grupp simmade dock länge vid vår båt och surfade på vågorna efter Anastacia. En brittisk segelbåt som gick samma väg som vi, fick också syn på delfinerna och filmade en sekvens. De var vänliga nog att kontakta oss på VHF:en och skickade över filmen till oss. Tack till Shirley och Dave på Mojito!
Vårt första stopp blev vid rian vid O Porto de Corme där vi låg för ankar i viken. Här fanns en liten by med en kyrka och kyrkklockor som spelade en liten melodi varje hel och halvtimme. Ett trevligt inslag på en annars ganska sömnig plats. Eftersom vinden ökat i styrka fick vi ligga kvar och vänta på lugnare väder. Nu fick vi försöka hitta på något att göra under några dagar. Att läsa böcker och träna på olika användbara (och oanvändbara) sjömansknopar fick tiden att gå. Så fort vinden sansat sig oh blåste i rätt riktning seglade vi vidare till Fisterra (Finesterre ~ världens slut) som är vackert beläget med höga kullar runt om. Här finns många populära vandrings- och pilgrimsleder. Tyvärr kom en tjock dimma inrullandes ner från bergen och dessutom höga vågor rätt in i viken så vi kunde inte ligga kvar och utforska detta natursköna område som vi hade planerat. Efter bara en natt fick vi segla ytterligare en bit söderut.
Vid nästa ria, Ria del Muro, stannade vi däremot i flera dagar. Här firade vi min (Malins) födelsedag med extra goda bakelser och fika. Två Estrella galiciskt öl i den lokala baren för 2 EUR/ölen höjde stämningen ytterligare. En dag, när vi gick in till byn, hade gågatan förvandlats till en liten marknad där det mest såldes kläder. Här var man tvungen att gå igenom stånden för att komma fram, vilket såklart ledde till att alla blev tvungna att stanna så fort någon ville titta på ett plagg. Folk tog det dock lugnt. Alla var på gott humör, någon nynnade på en melodi och ingen verkade ha bråttom. Saker fick helt enkelt ta lite tid. Det marknadsstånd som hade längst kö var där det såldes frukt och grönt. Här ringlade kön långt ut på vägen och försäljarna hade fullt sjå att expediera kunderna. Efter någon timme hade de sålt slut på större delen av sina varor. Vid 13-tiden på dagen packades alla marknadsstånd ner och marknaden var plötsligt över. I Muro håller man hårt på siestan. Vi var vana vid att åtminstone större livsmedelsbutiker har öppet hela dagen i de delar av Spanien vi besökt hittills men här var verkligen allt stängt i minst två timmar på eftermiddagen. Endast någon enstaka bar hade, som tur var, öppet.
Maten på restauranger och barer var enkel. Fisk och skaldjur serverades kokta, stekta eller grillade utan större krusiduller men ofta med mycket vitlök. I alla fall tyckte vi att det doftade så… Vid en fullsatt restaurang såg vi ett par med sina barn där maken beställt in en rejäl skiva bröd med en hel grillad fisk på, till sin 10-årige son som åt med god aptit. Christer och jag tittade på varandra. Vad hade våra söner sagt om vi serverat dem något sådant när de var i samma ålder? En omöjlig tanke…
Efter att ha tittat på svenskornas bravader i kvartsfinalmatchen i fotbolls-VM var det dags att ge sig av igen. En dags segling söderut förde oss till Vigo. Här fanns egentligen flera stränder att ankra vid men med den nordvästliga vinden som rådde så föll flera ankringsplatser bort. Kvar fanns nudiststranden. Här låg massor(!) av båtar för ankar och på de flesta skötte besättningen sina sysslor som vanligt, fast utan kläder. Lite knepigt kände vi men, "man får ta seden dit man kommer" tyckte Christer och solade i bara mässingen. Jag behövde aldrig fundera på den saken för trots solsken och 25 grader i skuggan frös jag som en hund. Troligen en liten förkylning som just svept förbi. 😊 Påpälsad upp till öronen fikade jag tillsammans med min make i sittbrunnen. Det var nog en märklig syn…
Man kan begära tillstånd för att besöka de öar som ligger precis utanför rian vid Vigo. De utgör nationalpark (Cies islands) som lär vara sevärda med ett rikt fågelliv. Tyvärr hade vi inte tid att ordna med en sådan förfrågan så vi fick beskåda öarna från avstånd då det inte heller är tillåtet att ankra vid dem utan tillstånd.
Efter tvagning av både besättning och båt kände vi oss redo att lämna Spanien och segla vidare mot Portugal. Det innebar också att den spanska gästflaggan tas ner och den portugisiska hissas.
What to do when you have time to spare?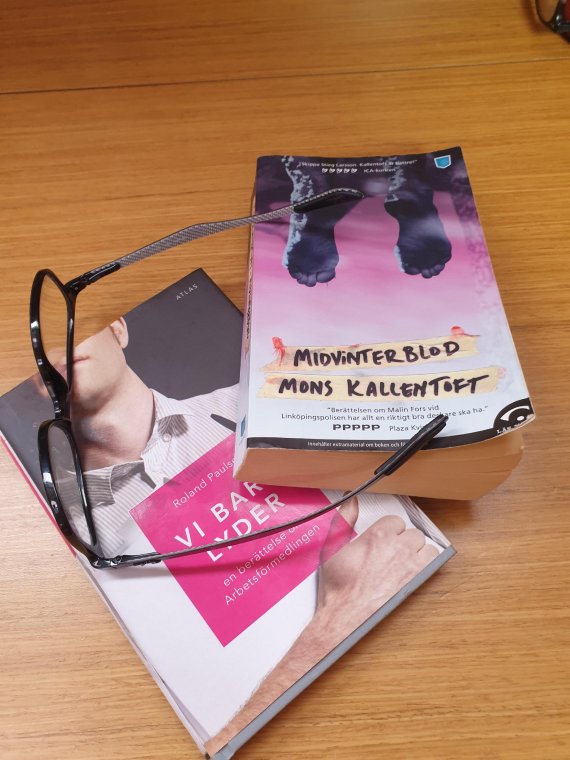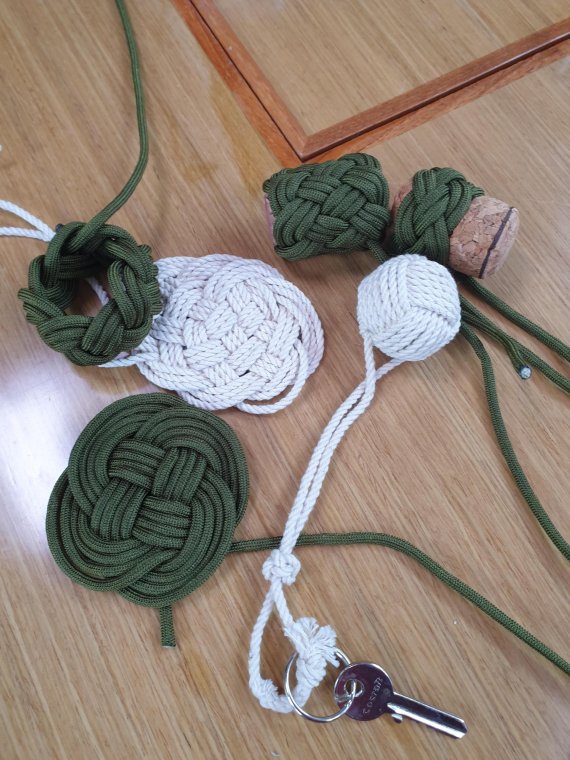 Fisterra in fog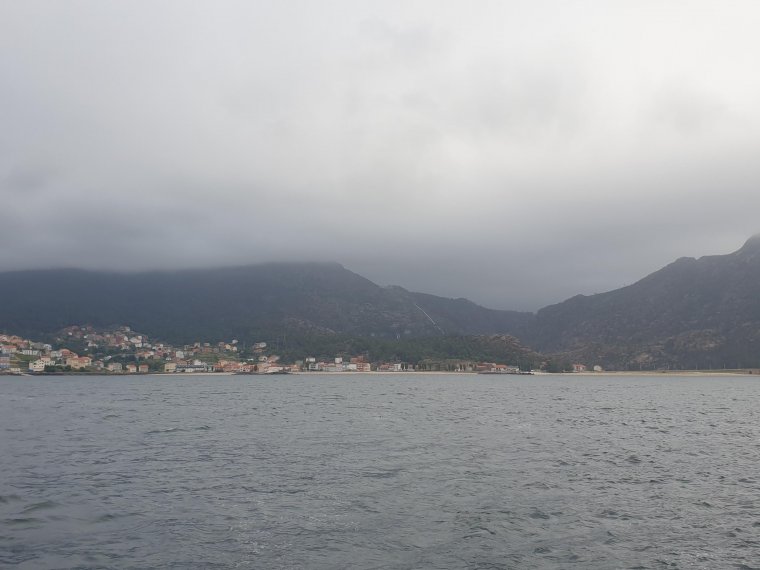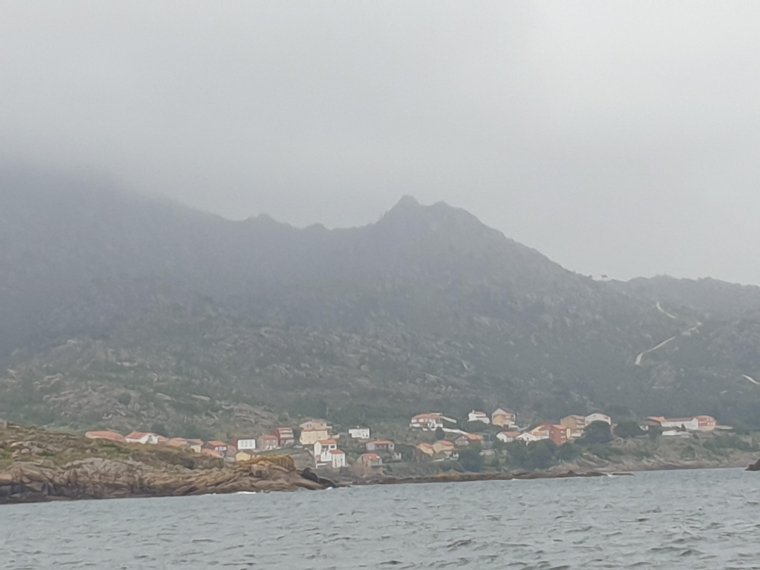 Ria del Muro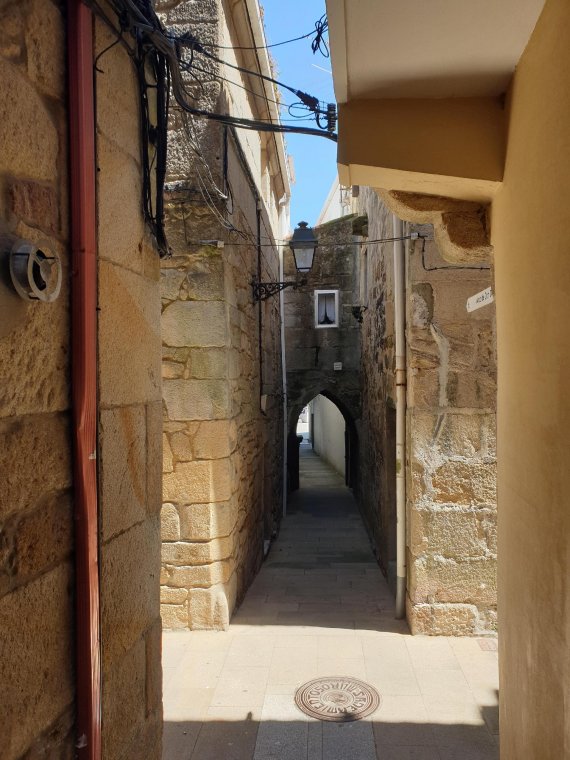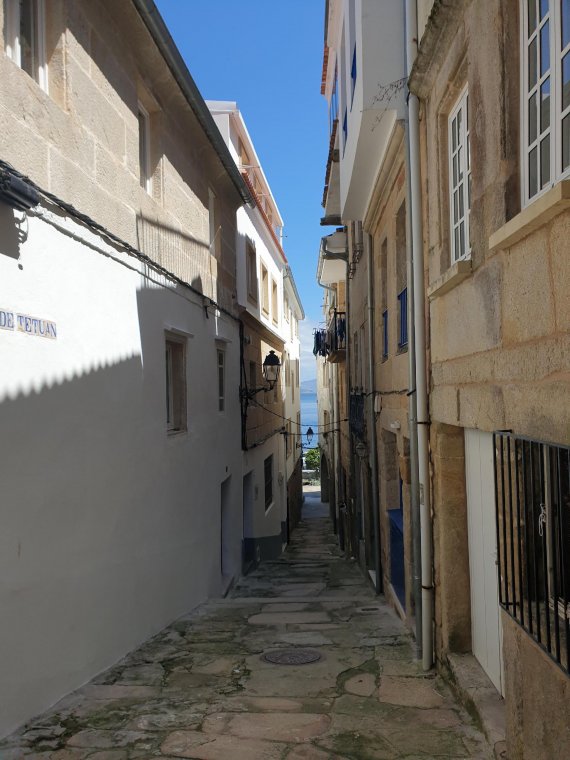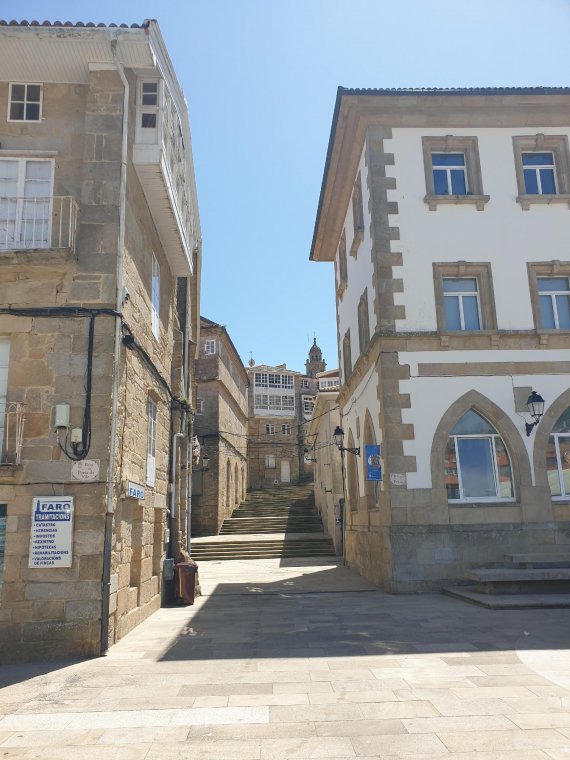 Cies Islands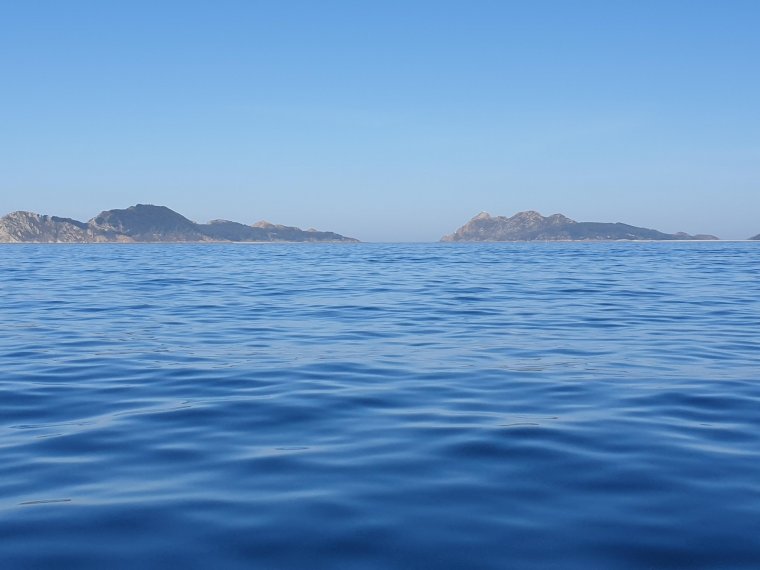 New country ahead!